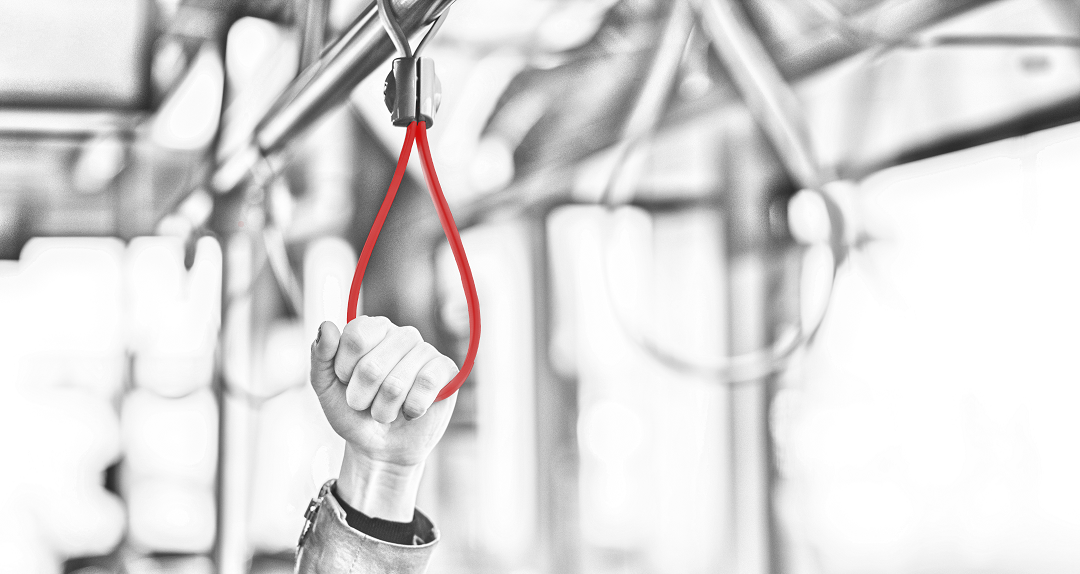 Riding the local trains and buses as a foreigner in Hamburg? Easy! Hamburg is a popular tourist spot, and thus the whole public transportation system is tuned to meet their demands - i.e., English language capability.
The public transport called HVV is really good in Hamburg. Trains and buses regularly go at least every 20 minutes until the very, very late evening and then thin out to 30 to 40 minutes. During rush hours most of the trains go every 5 minutes and most buses every 10 minutes. In the city center, you can reach almost any place within a couple of minutes. And, they are very safe. At night, you can even ask the bus driver to stop anywhere on his way to shorten your walk.
Anything you need to know can be found at the sites of HVV directly which is in English language: www.hvv.de
TRAINS
The trains in Hamburg are called "U-Bahn" (or "Hochbahn"), "S-Bahn" as well as "AKN". The terms are actually rather misleading, but they grew historically and simply sustained.
The U-Bahn stands for Underground and Hochbahn for Overground, and Hamburg's system was planned overground to a large extent. The first line was opened in 1912 and some of the stations still originate from that era. It is the second-oldest local train system in Germany. Hamburg also had a tram line up to 1955 and from time to time this is discussed as a possible alternative to the buses in the city center again.
The U-Bahn (as well as Hochbahn) train lines are indicated with a "U" and a number.
The word S-Bahn stands for "Schnellbahn" ("fast line"), however, in fact, it is just as fast as the U-Bahn. The company behind these lines is different than the one for the U-Bahn and therefore the train models differ. They are equally convenient, though. The S-Bahn dates back even longer than the U-Bahn: In 1866, the first line was opened!
All S-Bahn train lines are indicated with an "S" and a number.
The AKN is the most recent train line provider. The abbreviation stands for Altona-Kaltenkirchen-Neumünster Eisenbahn AG, and they hold 3 lines in the North of Hamburg connecting the S-Bahn to some western and northern neighbor cities (and villages).
The AKN lines are indicated with "A" plus a number.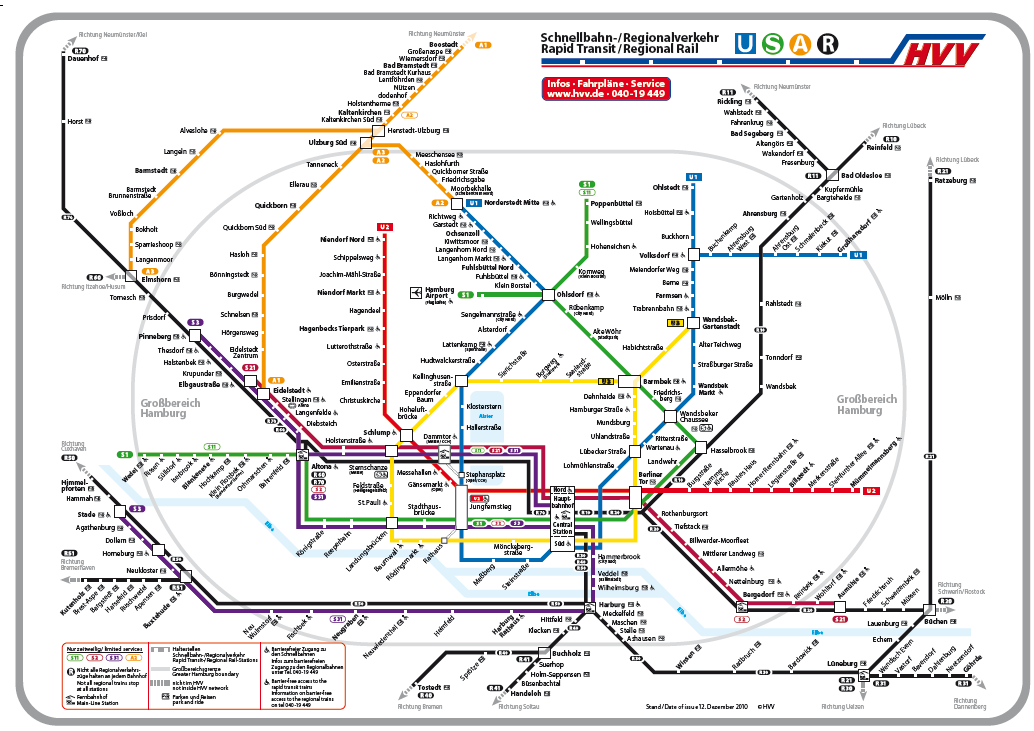 TICKETS
The ticket system is as in many other cities organized by distance and popularity. There are so-called "zones" and "rings".
The below picture gives a good overview. If you live in Hamburg, and you don't regularly need to travel outside Hamburg, then the main zones and rings are those highlighted in blue. The rings are the letters, i.e., ring A & B. The bold black numbers are the zones. If you take out a subscription, they become relevant because you may either choose the whole blue region or, you choose the distinct zones you need on a regular basis. The blue area is called "Hamburg Greater Area" or "Großbereich Hamburg".
Rings C - E are only relevant when you live outside Hamburg and use the public transport including regional trains to go to work and thus, a monthly subscription makes sense. Otherwise, you would be simply choosing the final destination station in order to buy a single ticket.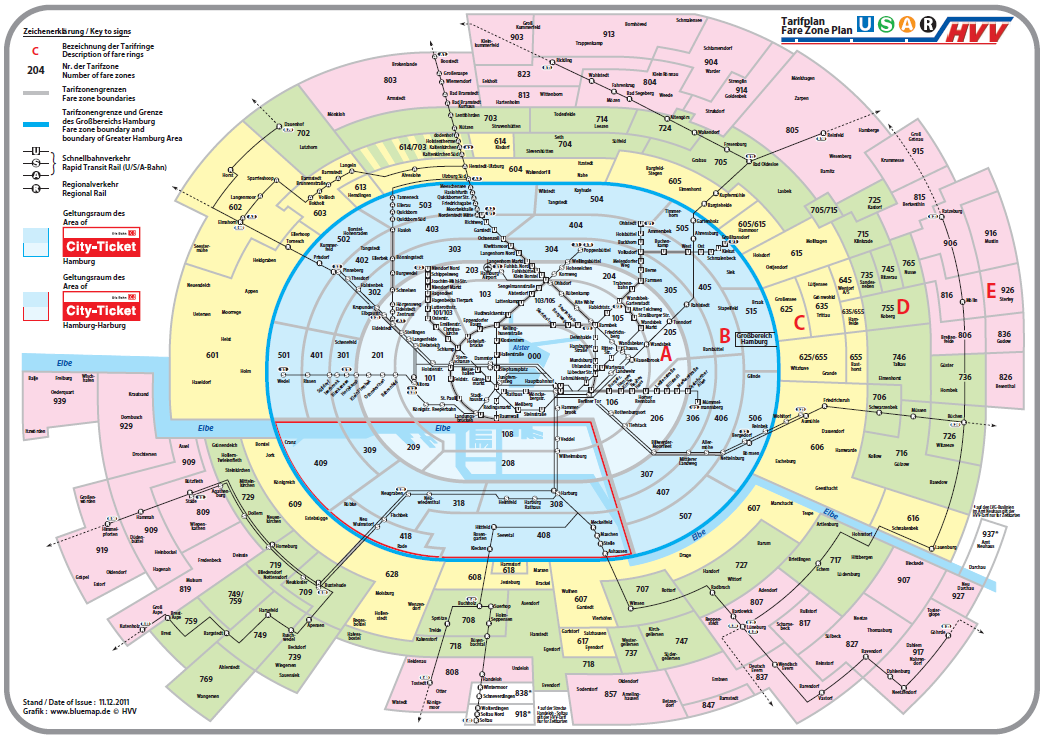 Monthly tickets
It is worthwhile checking the options of a monthly ticket versus going by car. There are a couple of alternatives:
One-month ticket
One-year ticket (with monthly payment) - if you live within Hamburg city borders, or otherwise rings A & B, the monthly price is currently 114,30 EUR (2022)
CC card (the CC-card is valid also for the SchnellBus (fast bus lines with a smaller number of stops) and covers for 1 adult and 3 children (6-14 years - children below that age go free of charge anyway). The cards are valid from Monday to Friday only and from 9 to 16 pm and 18 to 6 am the following day as well as on Saturdays, Sunday and bank holidays full day.)
More info (in English) can be read here, and the card can be ordered online, the price information is also available.
Available single tickets
To buy the right ticket, you need to know where you would like to go to and from where. HVV tariffs are not bound to a number of stops but on the availability of locations. The "zones" you need to pass will determine how much you have to pay for a ticket.
Hamburg Greater Area: One-way ticket or day-ticket?
One-way tickets cost between 1,80 EUR (short haul) and 3,50 EUR fort rings A & B (which is usually enough, unless you live outside of Hamburg city borders)
A day-ticket costs 6,90 EUR (if you start after 9 AM) and 8,20 EUR (with no time limits)
If you need to travel around, it is always a day-ticket unless you are not moving around short ways. 4 short trips or 3 short-journeys equalize the price of a day ticket (whether or not before or after 9 AM). Prices as of 2022.
One-way tickets
Within Hamburg
There are three tariffs distinguished, however, there is, unfortunately, no information at the ticket machines, how to distinguish by yourself. However, if you type in your destination, the ticket machine will indicate how much you have to pay. Of course this also applies to the mobile app.
1: Kurzstrecke (short haul) 1,80 EUR - usually 3 stops same line
2: Nahbereich (local journey) 2,40 EUR - a little more, individual as popularity of the trip also counts
3: Großbereich (Hamburg greater area - anywhere else in Hamburg) 3,50 EUR
Outside Hamburg
A further distinction is made by "rings" which is understandable from the HVV Fare Zone Plan above. If you travel within Hamburg, any location is in the rings A & B. Hence, the price for 1-2 rings apply and is the equivalent to the "greater area" above. If you live further out or want to conduct a trip to outside Hamburg, it is 3 to 5 rings.
1-2 rings 3,80 EUR
3 rings 5,60 EUR
4 rings 7,60 EUR
The prices have been checked in 2022 last. More info in English language here.
How to buy a single ticket
The mobile application for android or ios is probably the easiest solution. The app comes in English language, too, and offers timetable, ticket shop and a lot more information.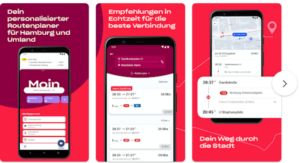 Day tickets and single way tickets can be bought at each stop. Train stations have a ticket machine. You have to type in your destination stop and the machine will calculate your charge. The touchscreen also comes in English language. They sufficiently explain what you would need to do. The only difficulty is to identify your destination if you don't know the station's name. However, in most stations, there is both a train map as well as a huge Hamburg map, with all bus lines. It is mostly next to the platforms.
Bus stations usually don't have ticket machines. You have to buy a ticket from the bus driver. He either knows the fare by heart or has a book to look up. Please be prepared that he will not change notes bigger than 10 EUR - the consequence could be that he does not take you.
It may be worth knowing that for safety reasons the buses only have coins boxes with a set number of coins - what should they do if these coins run out?
SCHEDULES
Internet
On www.hvv.de you can directly enter your starting point and target location (just put in the street names and choose "Straßenname" if you do not know the exact name of the stop. The result window allows you to drill down to the overall schedule of the line chosen or, additionally, to the map showing the stop and its neighborhood. It also indicates the fair you need to pay.
Smartphones
Via mobil.hvv.de you reach a first entry point allowing you to choose the application suiting to your phone (e.g., iPhone). Choose what's best for you and safe that URL on your phone.
SMS
Put in "start!target" into the txt body and send the SMS to
T-Mobile contract: 0175-360 99 99
Vodafone: 0172-882 99 99
E-Plus: 0178-360 99 99
O2: 0179-453 45 88
You are receiving the answer within seconds and free of charge. Your SMS costs the normal tariff as of your provider.
PENALTIES
A bus driver may at all times ask you to show your ticket. He is entitled to call the HVV security which will charge you with "Schwarzfahren". He is also entitled to ask you to leave the bus if you do not have a ticket.
HVV security also conducts controls in the trains. They will take you out of the train if you do not have a ticket and take your personal details.
The penalty for driving without a ticket is 60 EUR.
By the way: this information is also available in our DIY Tool!
While we only post information valid generally for Germany, you will find city-specific info in our DIY tool. This content is an example for what you'd find with regards to the detail available.