Team
The Red Relocators
Moving to Germany?
We offer Relocation Services to ease the transition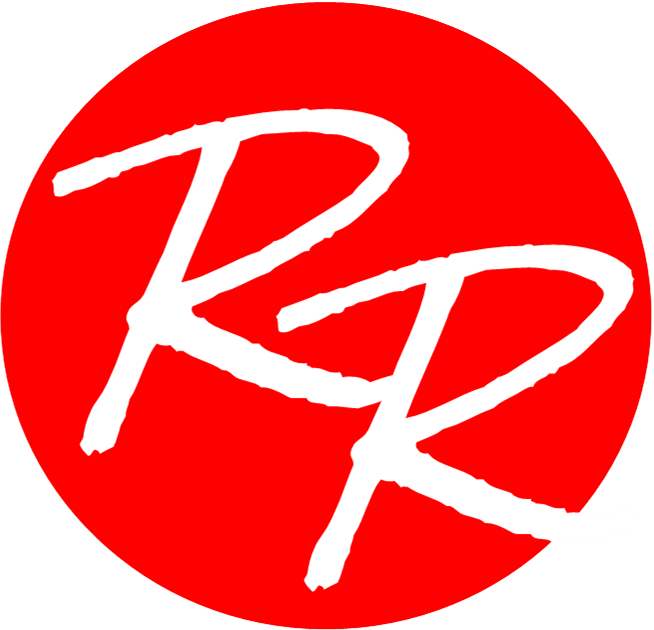 EVERY RELOCATION IS SPECIAL & INDIVIDUAL.
WE CUSTOMIZE OUR SUPPORT TO EXACTLY WHAT YOU NEED.
The Red Relocators offer Relocation Services for Germany. Whether you are a company or a private person planning to relocate to Germany - our Relocation Managers will support you!
Find out more about why choosing The Red Relocators!
Slide 1
The Red Relocators: your perfect partner for moves to Germany!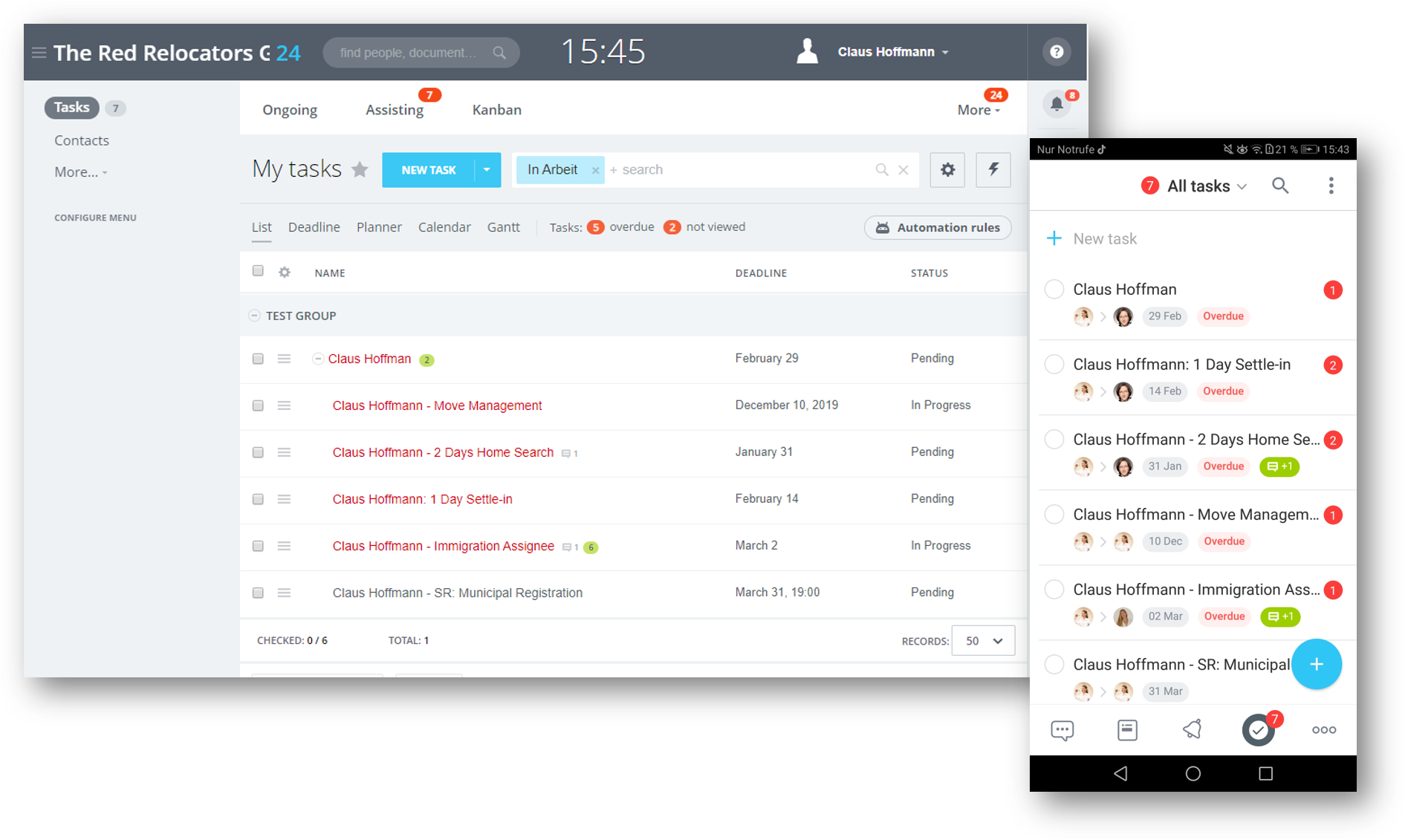 MODERN TOOLS
Our collaboration tool transparently connects operational and strategic functionaltities.
Keep the overview on relocation cost for each case, analyse your cases, and dig into each case's details with just one click!
Relocation Guides
Our relocation guide comprises city-specific as well as general information on critical topics relevant for an international move to Germany. Free of charge.
Self-Relocation Packages give access to our consultants' knowledge about bureaucratical procedures in their town. They will explain everything in a way, that enables you to conduct it on your own.
We aim to support everybody, also those with a small budget!
CUSTOMIZED SERVICES
Each employer has its own individual recruiting and onboarding process, and each case can be unique.
We are proud to offering premium support to everybody.
Understanding the relocation specifics of Germany is vital for a successful hiring/move - we help defining the right packages.
Knowhow & Network
The Red Relocators offer the whole bandwidth of destinations services - whatever you need, we are able to provide. Where applicable we rely on the profound expertise of our partners.
These are language providers, realtors, insurance brokers, lawyers, tax experts etc.
A relocation always means a lot of work.  For a foreigner even more so than for German. When assigning an employee into a foreign country a lot of complex topics are to be considered.
These technical and organisational challenges can be resolved the fastest way
with a good team at your side:
• immigration experts & lawyers • international experienced consultants skilled in corporate, tax and employment law • insurance experts • global mobility & relocation managers • local experts of the destination city • and people with an intercultural understanding and expertise •
All of this we unite at The Red Relocators.
Benefit from of our nation-wide organization, our professional experience, and our local expertise!
RELOCATION SERVICES MADE TO MEASURE
Our Relocation Services are dedicated for private and corporate clients
The scope of our Relocation Services for Germany is tailored to our customers' very individual requirements. Consequently, we provide all advisory and organizational services related to a relocation to Germany, be it a company or a private person.
Corporations:
You want to hire foreign professionals from all-over the world? Let us contribute and add value to your Global Mobility Function, Onboarding and Retention.
We support foreign companies opening a legal entity in Germany - from legal registration to employments contracts, tax & accounting, finding office space and set-up basic subcontractors.
Private moves:
Our Relocation Managers will compile your optimal service level of Relocation Services and develop special services where required.
Low budget solutions: Do-it-yourself with in-depth city-specific guides combined with individual remote support by our experts.
ALL OF GERMANY FROM A SINGLE SOURCE
Our Relocation Managers will be there for you all over Germany
We have dedicated relocation teams Germany's key urban centers Hamburg, Lübeck, Bremen, Hanover, Berlin, Leipzig, Erfurt, Cologne, Duesseldorf,  Frankfurt, Karlsruhe, Stuttgart, Nuremberg, and Munich and from there they also cover the surrounding areas.
EVERYTHING YOU NEED TO KNOW FOR YOUR MOVE TO GERMANY
Our extensive Relocation Guides serve for self-service
Moving into a new environment causes a great demand for information. The research can be very time-consuming and hardly will you find all information at one place. Therefore, our relocation guides aim to be a valuable tool for those relocating to Germany. It offers detailed information on living and working in Germany and, step by step, compile city-specific information for the big metropolises in Germany.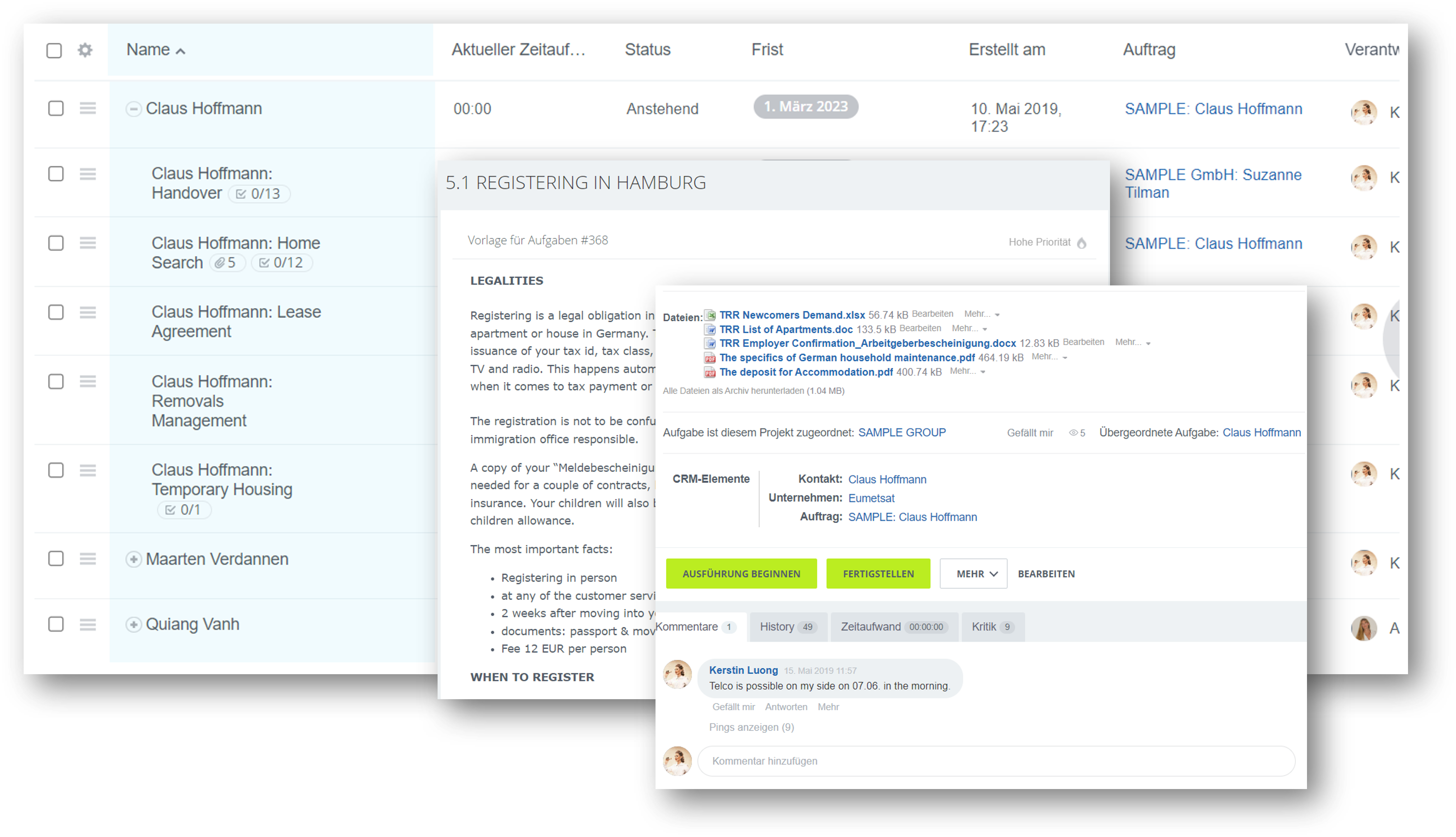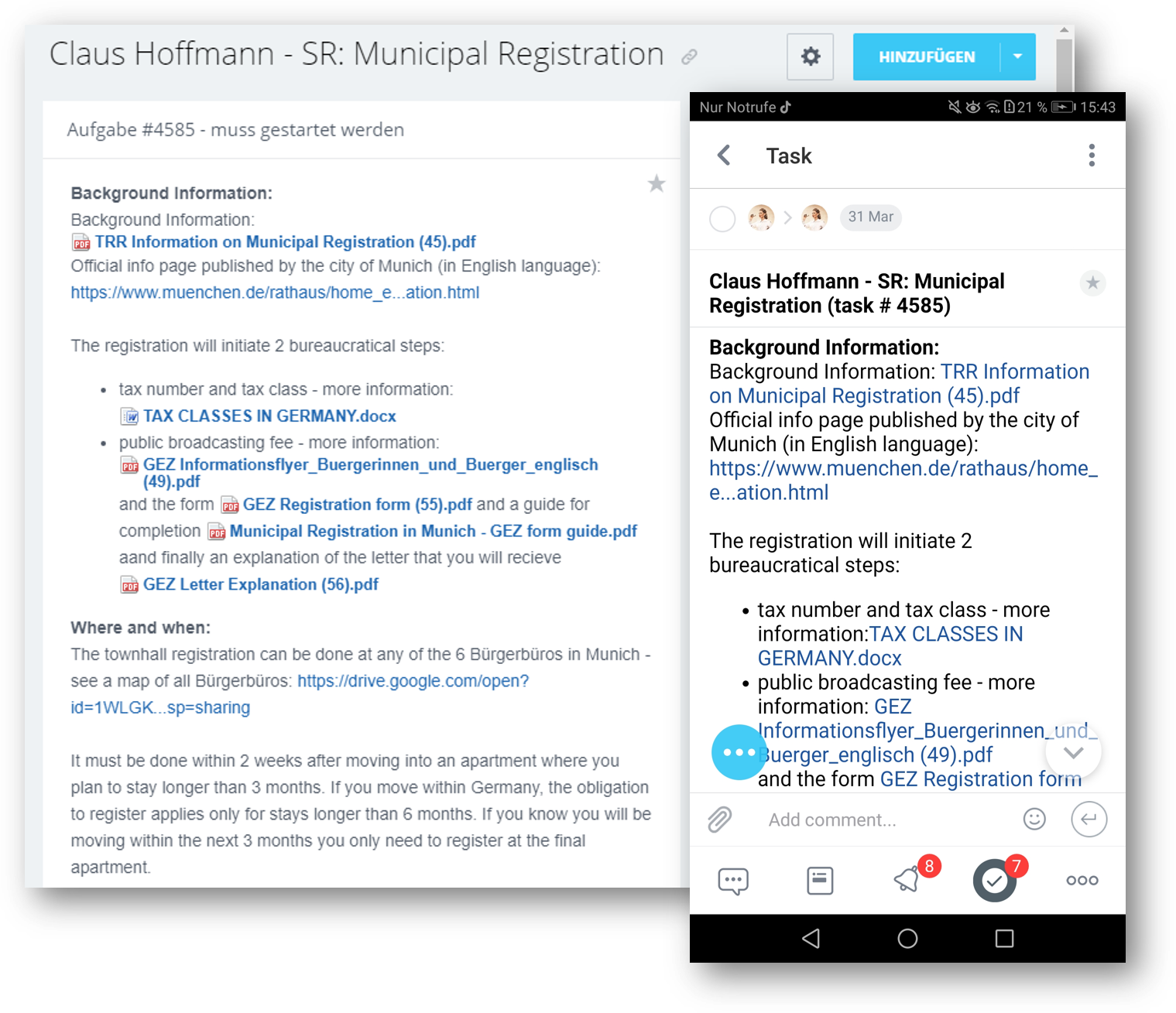 THE RED RELOCATORS STAND FOR HIGHEST PROCESS EFFICIENCY
Tool-driven very high standard quality of our relocation service processes
Our processes are supported by one of the most modern collaboration tools. It offers us excellent functionalities around
Case Management
Customized Scoping
Streamlined Communication
Document Management
Our Relocation Managers have access to all client-related information, including status of services, at all times - also with their mobile devices. Based on an internal wiki, any service order comprises the relevant background information, service level, important links, templates and working documents.
We will always be on track!
A STRONG REAL ESTATE AGENTS' NETWORK FACILITATE HOME SEARCH
Home Search is largely emphasized as core Relocation Service - rely on our realtors' network
Our clients benefit from a strong network of real estate agents established over the years. Most of all they know us for:
Reliability and knowledge
with financially solid clients
efficient processes and
education of our clients about legalities and custom procedures
Especially relevant: The Red Relocators work completely independently - there is no commission scheme in place with any real estate agent and our code of conduct requires strict adherence to objectivity.
DATA PROTECTION & SECURITY
Throughout a Relocation you have to provide very confidential information - we keep it safe
Protection of our clients' data is important for us and it is, therefore, a key element of our code of conduct signed by each of our Relocation Consultants: client-related is to be treated confidentially unless specifically necessary to provide.
Our Collaboration tool is secured via a 2-factor authentication. Any data transfer, as well as stored files, is subject a 256 Bit SSL key and the web application qualifies for the security standard WAFEC 1.0.
Archiving regulations require the deletion of unnecessary client-related information after 6 months of the final invoice.
Slide 1
CONTACT
Are you interested in our services? We look forward to your contact request and will get back to you as soon as possible.
Let us have some information about you and your needs.
We love what we do - and that shows. Dig into some quotes of clients we have supported with their Relocation.
More references can be found on our Facebook Page!

They have understood our necessities and we have found a comfortable solution in short time. We have been supported from the bureaucratic point of view and we have received all the necessary documents in time. I also really appreciated the present we received when we arrived at home: salt and bread, as I learned in this occasion it's a tradition in Germany to wish good luck in the new house.
- Maria Paola Manzi -
We have used HamburgRelocation for several of our employees when opening our new office in Hamburg. They were absolutely helpful and not only took away a lot of workload but also reliably got us the best deal for any matter we come up with.
- Paul Murphy (MD Express Feeders) -
Personal approach which makes me and my family feel home alike sooner than I could possibly think!!
- Jakub Dmochowski -
We have just smoothly settled in our new home in Hamburg, thanks to Hamburg Relocation! I moved from Dubai with my husband. We were extremely happy with their services and thus recommended them to my husband's colleagues because his Geneva office was relocated in Hamburg. Everyone seems happy with them.
- Eunice Lee (Marketing Manager) -
Thanks to The Red Relocators for their support during our first months in Hamburg. Moving to a new country without the knowledge of the language and culture is quite a complex experience and TRR helped us through the process: official paperwork, finding us the right accommodation, school, etc. We recommend their very professional services and kind staff.
- Vidal Perez -
We had about an 8 week window to sort everything out (in which we only had time to visit Hamburg twice for 2 days) and they were able to help us get everything done - which never would have happened on our own- In the four days total that we spent in Hamburg we found a house we love, a school for my daughter, an English speaking OBGYN and midwife to care for me during the rest of my pregnancy, and registered, etc. My husband and I both feel it was the best money we spent on our move!
- Mary Ardini Butzlaff (Investment Banking) -
We would definitely use again I can recommend to others. The creativity to help us with the unusual request (like the soccer teams for the girls) was wonderful and very comforting as we embarked on our adventure!
- Jessica Roth -
They were quick and reliable and suggested all apartments which fit my wishlist. I have tried a real estate agent first, but he only had one apartment that fit halfway and the number of available apartments on the net was huge. I did not even know where to start. HamburgRelocation did a superb job selecting the right ones for me.
- Louay Shaat (IT Architect, Panasonic) -
Thanks a lot to Bettina Schwemmer for helping me find a very nice flat in Munich and showing me around - she was very friendly, efficient and knowledgeable.
- David Dasenbrook -
Dear Katrin and Kerstin,
Let me thank both of you the kind support you provided during the apartment search in Berlin! It still seems a bit unbelievable to us that we could so quickly find our new, beautiful home! We are all so happy! Special thanks for Katrin who made a really good job from the beginning, understanding our preferences perfectly, supporting us with valuable advice, managing the whole process till the contracting, and also was a lovely company during our stay!
- Peter Kiss & Petra Ambrus (IoT business manager, Conrad Electronic) -
Thank you, Red Relocators for all the help with our move to Hamburg! Everyone was very helpful and friendly. You guys made our lives much easier and our relocation went smoothly! I recommend your Services to everyone!
- Nádia Ramos and Igor Donatto -
Excellent service that helped us find our dream home.
- Michael & Stephanie Cleary -
Very happy with the full package of services provided by the Red Relocators. They saved me a huge amount of time, nerves, even money! I would highly recommend them to anyone, considering using such services. I am planning to use them again when relocating back to EU.
- Sevdalina Bratovanova -