Car Registration
(c) Daniel Budde CC-by-SA 3.0
Bike sharing
(c) Marcus Schwan - CC-By-SA 2.0
Public Transport
(c) MaxM Eigenes Werk CC-by-SA 3.0
If you are a Non-EU citizen, your driving license is likely to expire after 6 months from your registration!
When you wish to drive a car in Germany, you need to be careful about your driving license. It may well be, that your local driving license is not or no longer valid in Germany. And driving without a license is a serious issue with harsh subsequent penalties.
This article helps you finding out what to do to find out,
if your driving license expires and
how you can convert it to a German license.
Driving is the German's most popular activity - or at least that is the perception. What we allocate with the German way of driving: the motorways have no speed limits, there are no maut tolls, and the roads are well maintained. Further, the world's biggest manufacturers of high-quality cars origin from Germany - it is from here that the car overtook the world. Admittedly, that industry got a serious blow recently with the scandal regarding exhaust technology and the belated change to renewable energy driven cars. But the industry is certainly still one of the biggests in Germany.
Getting to know Germany by car is easy and most convenient. Gas stations, garages, parking space, are available everywhere. Traffic jams are, in comparison to other urban centers, rare. A lot of money is invested in improving the traffic system, to make it safer and more efficient.
You can bring your own car, buy one in Germany or rent one and should you decide to do so, you should have made your homework.
VALIDITY OF YOUR DRIVING LICENSE
Without a valid driving license, you are NOT allowed to drive ANY motor vehicle on the roads in Germany.
Such license must be carried on all journeys and must be presented to an official on demand. The key is its validity; hence, if your local driving license has been canceled for whatever reason, you can't drive in Germany either!
Whether or not you may drive with your driving license until the document expires or whether you can only drive for 6 months depends on where your driving license has been issued. For groups of driving licenses can be distinguished:
Drivers with EU & EEA licenses: can continue driving until their current license expires
Drivers from non-EU countries: can only drive 6 months after registering in Germany, and need to conduct a theoretical and practival driving test
Specific requirements for Canadian, US, and other non-EU driving licenses: can only drive 6 months after registering in Germany, but only need to hand in their license for conversion
Validity and Use of International Driving licenses: have no impact on the validity of your current license - they are only a translation
Translation Requirements of foreign licences
Holders of an international driving permit do not need to carry any additional translation. Neither do driving permits issued in an EU member state need to accompanied by a translation, or driving licenses which are anyway issued in German language. Further, holders of driving licenses issued in
Andorra,
Hongkong,
Monaco,
Neuseeland,
San Marino,
Schweiz und
Senegal
also do not need to carry a translation with them. Consequently, any other driving licenses need to be translated.
Validity and Use of International Driving Licenses
Those from outside the EU may apply for an International Driving License in their country of origin. They may drive in Germany with an international license for one year, but must also carry their national driving license. However, once officially resident in Germany all non-EU drivers should obtain a German driving license.
Consequences of driving without a valid driving license
Driving without a valid driving license is a serious issue:
You are NOT insured! Your insurance company will demand reimbursement of any liquidated damages it had to pay on behalf of you once you caused an accident - imagine a person is severely injured: you will be in debts for the rest of your life!
Also, there is punishment: The maximum penalty is 6 months prison, or, alternatively and more likely, up to a maximum of 180 so-called "Tagessätze". A "Tagessatz" is 1/30 of your net income. The maximum penalty is, however, seldom charged.
Your misdemeanor will be registered for 5 years. Future employers, as well as the immigration office, can check this registry.
The police can ask you at any time to show your driving license; it will certainly do so if you committed any misdemeanor, e.g., driving too fast, or ignoring a red traffic light.
Drivers with EU & EEA licenses
If your license has been issued by EU and EEA member states, you can use it for an unlimited period in any EU Member State. German license regulations will nevertheless apply to foreign licenses regarding validity, medical checks, penalties, and restrictions, including suspension, withdrawal, and cancellation of the license.
If a driving trespass occurs, German authorities can require that you obtain a new license.
If the date of issuance of your driving license is less than two years back or if your license is an HGV license you must register your license with the local Office for Foreigners (Landeseinwohneramt) within six months of becoming resident in Germany, or you will have to take a German driving test.
A European license is standardized in format and therefore also readable for police officers not speaking Spanish, French, Polish etc. No translation is necessary.
Sometimes police officers check driving licenses during routine checks ,and find it invalid. The best recommendation is just to accept them to note down your data since you will not succeed in that tense situation to convince the officer. You may, of course, tell them that your latest information is that the conversion period (which will probably be referred to) does not apply to driving licenses issued by an EU country. However, do not pay any fine (it is in any case never asked for). What usually happens, in case you presumably did something wrong on German roads, is that you will receive an official letter explaining your wrongdoing, setting the fine and requesting whatever needs to be done. Such letter will never come because latest the issuing authority does know exactly which rules apply to your license. For your own sense of security, please refer to this article by ADAC or review the online regulation (specific hint to Art. 1.2).
Drivers from non-EU countries
If your license has been issued in another than EU country, you can use it for 6 months.
Prerequisite: When it was issued by your country of residence at that time you spent a minimum of 185 days per year in the principal country of residence. As you will have to prove your residency as per such date you need to contact the local authorities to document your residential status for such period. After 6 months it will become invalid, and you need to acquire a German license. This prerequisite is only seldom really checked by the police; however, you should be aware of the rule.
Furthermore, you will need to carry a translation of the driving license as well as a certification of permission to drive ("Zertifizierung der Fahrerlaubnis"), unless the dircing license is already bi-lingual in English. The German Automobile Association (ADAC) can provide a translation against a small fee.
You cannot drive with your license if the same is provisional or if you are still a learner. Neither are you allowed to drive in case you were banned from driving.
We will help you converting our license, finding driving schools, explain the process and accompany to the authority. this service is part of our Settle-In Package, or, if you want written guides for your destination city only, consider booking a DIY package.
Specific regulations for citizens from Canada, USA and other states
These are the so-called "Listenstaaten" – as they were put on one list to refer to.
Once you registered as a resident in Germany, you can drive with your foreign driving license for up to 6 months. When this period is over, your driving license becomes invalid in Germany, automatically. Please see underneath for consequences! In specific cases, the period can be prolonged some further, i.e., when your total stay will not exceed a year.
To get a German Driving License, you have to pass all the requirements a German would need to complete, too. It is, however, not required that you actually take driving lessons, although it is sometimes easier to pass the exams if you had some lessons on German streets. The driving teacher will let you know, where you handle a situation differently than a German would and that might help a lot!
US Citizens:
Very generally speaking, US citizens do not have to undertake a practical driving test. However, holders of licenses issued in the following states need to pass the theoretical driving license: Connecticut, District of Columbia, Florida, Indiana, Minnesota, Mississippi, Missouri, Nebraska, North Carolina, Oregon, Tennessee. Texas needs to provide an eyesight test. This statement is only true for normal driving license and does not cover Chauffeurs, Commercial or Public Passenger Licences or the like. Click here for the official list. Don't ask us for the reason of this distinction - maybe Texas citizens have proofed statistically shortsighted...
An extension up to further 6 months is possible if applied for. Such extension must be declared to the local driver's registration office.
Canadian citizens:
If your license has been issued in Canada, generally speaking, you can convert it without the need to pass the theoretical or practical driving test in Germany. Again, this applies for normal driving licenses, and you should double-check with the official list.
Australian citizens:
Likewise, German authorities accept driving licenses issued in Australia for easy conversion. No theoretical nor practical driving test needs to be passed, however, despite for South Australia, Tasmania, and Victoria, all other drivers need to provide an up-to-date eye-sight test. The detailed regulations are to be found here.
Other states:
Driving Licences issued in Andorra, Bosnia and Herzegovina, French Polynesia, Guernsey, Isle of Man, Israel, Japan, Jersey, Monaco, Namibia, New Caledonia, New Zealand, Korea, San Marino, Switzerland, Singapore and South Africa, or in some parts of Taiwan, are likewise accepted for conversion without theoretical nor practical driving test. Check details with regards to the type of license in the official list.
APPLICATION PROCEDURE & REQUIREMENTS

Timing for an application
It depends on the country where your driving license has been issued whether or not you can exchange yours for a German one, or whether you have to take a full German driving test.
If you are a resident for longer than three years, you will be obliged to undergo the whole driver training and testing procedure from scratch. This is a costly and stressful and the test is in German language.
You should apply for an exchange of your driving license for a German license to the local Driving License Office (Führerscheinstelle) of the local administrative department or town hall (Kreisverwaltung or Rathaus) approximately two months before the 6-months period ends.
Documents required
Generally, the following documents must be provided:
Proof of identity (passport) displaying your entry-date
Confirmation of residency plus a photocopy
Passport-size (35x45mm) biometric photo of the driving license holder signed on the reverse side (bareheaded)
Current foreign driving license plus photocopy
Certified translation of current foreign driving license plus photocopy (Non-EU/EEA driving licenses only)
Confirmation from the Foreigners Office (Landeseinwohneramt) of the duration of residency in Germany (Aufenthaltserlaubnis)
Results of an eyesight test (can be obtained at any optician)
Certificate of an emergency aid course conducted
Application form
Theoretical test (can be conducted in English (and other) language, depending on issuing state)
Practical driving test results (must be conducted in German, to be applied for via a driving school, depending on issuing state)
Once the German driving license has been issued, the foreign driving license will usually be retained and destroyed, unless you order archiving against a small fee.
Translating your driving license
There are several institutions allowed to translate and certify your driving license, one of them is the ADAC. You have to send your original to your local ADAC office and will get it back after app. 8 days. It is an absolutely trustworthy institution. Be prepared to be charged 85 EUR for the service.
Theoretical driving test
The theoretical driving test is based on a standardized questionnaire asking multiple-choice questions. Each question is valued with a specific number of points between 1 and 5 and it is clearly defined how many points are allowed missing to still pass the test (e.g., 10 in case of a class B driving license). A test for license B (normal passenger car) can be conducted in English, other classes have to be done in German.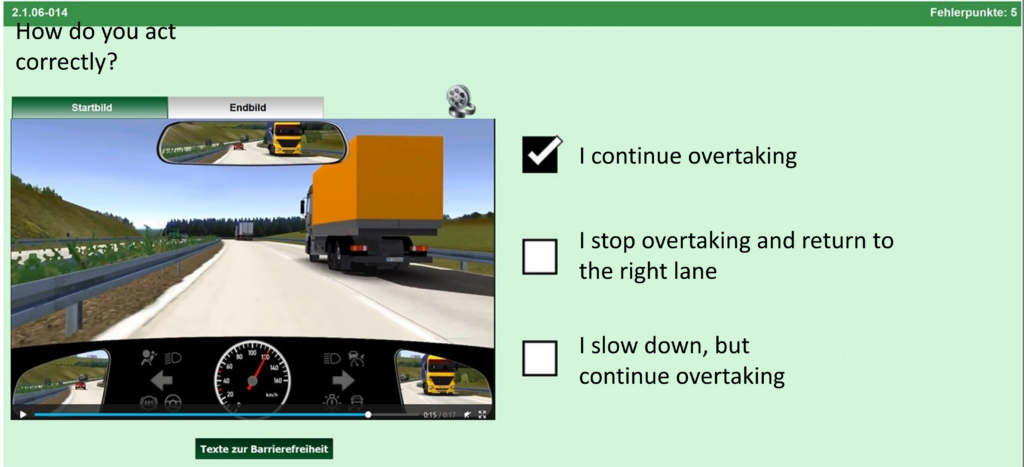 There are many suppliers for online training systems in German, these two offer the questionnaires as well supplementary learning material in English as well as in many other languages:
Both sites require a basic understanding of German language to get to the online learning system. Both offer a certain testing period and it is recommended to conduct such a test, it gives you a good understanding of what knowledge will be required by you in the official test. Their pricing model differs and there may be more suppliers.
There is also an app for mobile phones. This is good for an initial learning, but it has it's limits.
Be careful, when choosing another supplier, that the translation is authorized by TÜV Media GmbH. Such translations guarantee identical questionnaires as the test questionnaires.
The issuance of your driving license will cost you 20,43 EUR for the test and 43,40 EUR for the issuance of the driving license (last updated January 2012). Usually, you can go there anytime during opening hours and conduct the test.
Where to take the emergency aid course
The German Red Cross (DRK) has put together links to diverse institutions and companies offering such courses, also in English language . DRK itself also offers such courses. It will take 8 hours (9:00-17:00) and is held on Saturdays and Sundays. They regularly take place in most bigger cities. The difficulty is more to find one with translation, or in English language.
Driving Schools with English speaking teachers
It is not the easiest task to find a driving school with staff being able to communicate in English. Where we have identified one, we share in our DIY tool.
Generally speaking, the requirement to speak the German language on B1 level is increasing. The practical test is held in German language, and whether or not an auditor may be willing to speak English with you during the test is pure good will and happens rarely. Therefor, a certain command of the relevant vocabulary is helpful.
Unless you are visiting a German language course in any case, we recommend you to lear at least the relevant vocabulary (available in our DIY tool) before visiting the driving school. They will want to make sure that you understand the most important phrases. After all, they want to be sure you are able to react at short notice in case of danger.
It is further helpful to have learned the most important German traffic rules before meeting them the first time. We have compiled a little leaflet on them, which you can carry around with you.
They will also require you to book at least one driving lesson because they need to evaluate your driving skill level and where you make mistakes. The problem is that your brain switches to autopilot the moment you put yourself behind the wheel. It's going to be tiny things that you are used to interprete differently, and it is super hard to overwrite them with the German way.
Cost
One needs to distinguish government fees from the driving school fees.
Government Fees (2022):
Conversion Fee: 43,90 EUR
Theoretical Test: 22,49 EUR
Practical Test: 116,93 EUR
Driving School Fees:
Set-up Fee: 100-500 EUR
Driving Lesson: 55-65 EUR for 45 minutes
Sign-up for Theoretical Test: 30-40 EUR
Sign-up for Practical Test and accompaniment: 110-140 EUR
Emergency Aid course: 55-60 EUR
Eyesight Test: mostly no charge
Our DIY Tool includes a detailed guide for the conversion of driving licenses
How this process is set up depends on the state of Germany, and sometimes even the city. You will need to know what actions you have to conduct in what order and it saves a lot of time to reduce your research for open slots at driving schools to the schools we identified as offering conversion training.
Slide 1
CONTACT
Are you interested in our services? We look forward to your contact request and will get back to you as soon as possible.
Let us have some information about you and your needs.