WHERE TO APPLY FOR AND PROLONGATE YOUR RESIDENCE PERMIT IN HAMBURG
Your German residence title most likely is restricted to a specific period. Once that comes to an end, you need to apply for prolongation of your residence title. In Hamburg, this is done at the Foreigners' Office ("Ausländerbehörde") responsible for your registered address.
At some offices, appointments can be reserved by way of telephone contact. Expect for a lead time of 4-5 weeks until the next is available. The good thing about an appointment is the avoidance of extensive waiting. Make an appointment for approximately 6-8 weeks before the extension of your residence title!
They don't give out appointments and the more central, like Altona or Steinstrasse, the longer waiting time needs to be factored in, can be 3-5 hours - so bring time.
Once you arrived at your local Foreigner's Office, you will pick a number. Usually, there is a little machine in the waiting area, if not, make sure you ask, as without a number you will not be served. The numbers are given out 7:30 onwards and only to an extent where officers are available at that day. Consequently, all numbers may be gone in case you arrive late - however, in most cases you will get one.
Paperwork to bring:
Passport
a biometric photo
Employment Contract and job description
current residence title
proof of your qualification
a CV
65-80 EUR in cash (depends)
The processing time of the appointment is approximately 20 minutes. Two fingerprints are recorded, and a book is handed out 'All you need to know about the electronic residence permit (eAT), ' and you must sign to confirm you have received it.
Approximately 6-8 weeks later, notice will be sent from Berlin that the card is produced and available for collection.
Recommended day of collection is Wednesday (reduced waiting time) and no appointment is necessary When picking it up, you must sign another form agreeing to advise the Bezirksamt if there are any changes to your status during these 6-8 weeks. Changes include: address, marital status, new child, workplace, income, studies and lost passports. We suggest taking the proof of payment along.
If you have any questions regarding the documents to bring, the best address to ask is the people at Hamburg Welcome Center.
The three below are the biggest since they encompass most of Hamburg's addresses:
Opening hours are a snapshot of August 2016.
Download the job description form "Angaben zum Betrieb und Beschäftigung"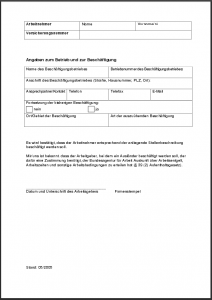 Download the application form "Renewal of residence permit"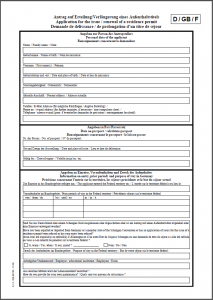 Kundenzentrum Altona - Bezirksamt Altona - Fachamt Einwohnerwesen
Platz der Republik 1
22765 Hamburg
Kundenzentrum Hamburg-Mitte-Bezirksamt Hamburg-Mitte-Fachamt Einwohnerwesen
Klosterwall 2
Block A
20095 Hamburg
+49 40 42854-1903
Auslaenderabteilung@hamburg-mitte.hamburg.de
Room: 2.OG
Mo 8-16, Tue 8-12, Wednesday closed, Thu 8-16. Friday 8-12. Please pay attention to diverting opening hours.
Kundenzentrum Wandsbek - Bezirksamt Wandsbek - Fachamt Einwohnerwesen
Schloßstraße 60
22041 Hamburg
Support Inquiry
We help you completing the forms, reserve an appointment and accompany you to the Foreigner's Office.
FINDING YOUR RESPONSIBLE FOREIGNERS' OFFICE IN HAMBURG
To find out which is your responsible authority you have to type your address (just the road) into the search field, click ok,
then type your house number in the second entry field and hit "WEITER".
Adress and contact details are displayed at the bottom.
Click on show details to see opening hours.