Moving to Frankfurt
Tailor-made Relocation Services
We cover the whole Rhein-Main-Area: Frankfurt, Wiesbaden, Mainz, Darmstadt and others
DISTRICT PROFILES  RHINE-MAIN-AREA
THE MOST POPULAR DISTRICTS OF FRANKFURT, WIESBADEN, MAINZ, AND DARMSTADT
The Rhine-Main-Area comprises the cities Frankfurt, Wiesbaden, Mainz and Darmstadt and combines the skyscrapers of Frankfurt with the medieval old town of Eltville, the Wilhelminian style buildings in Wiesbaden and Mainz with numerous picturesque pictures and the curvy flow of the rivers Rhine and Main. Public transport within the area has been constructed to suit the needs of thousands of daily commuters.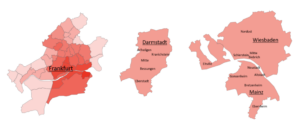 FRANKFURT
Frankfurt is known for being the financial center of Germany. Possibly every German bank has its premises here, as does the German Central Bank and the stock exchange. Frankfurt is a real expat town as there are so many managers from other countries practicing the art of finance here. When you are moving to Frankfurt, you will will see very high living expenses paired with a high quality of life.
Read through our district profiles to get a better idea of each district's charm and character as well as average rental prices!
If you don't know Frankfurt well, below map indicates the most popular districts - naturally the most expensive ones. The darker red neighborhoods see monthly rents of 15 EUR a month - side cost excluded, and this is an average only, that means long-term lease agreement with lower prices are also included.  We have indicated the most popular districts with a little red heart; however, there are very charming and good areas in the lighter red quarters as well - you just need to know where exactly. Our Relocation Consultants know this - of course - and will select apartments or houses which are in the best possible area for the budget you have in mind.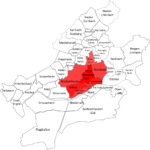 Central Frankfurt
Dornbusch

♥

Nordend

♥

Gutleutviertel

♥

Bahnhofsviertel

♥

Innenstadt

♥
Want help with home search?
We are here to prioritize available options for you, introduce you best to the landlord, support you with the lease agreement, witness the handover and register with utilities!