Need to handle your relocation at low budget and still want to do it right? Our Self-Relocation Packages will be perfect for your needs!
We understand the necessity to keep cost at bay, especially in case you need to finance the move-related cost on your own. Likewise, we offer these Selr-Relocation Packages to employers who cannot make the funds available but still want to support their new hires on a minimum level. Or want to add this package to a more expensive homesearch package.
This service is predominantly tool-based, but can be topped up with remote personal support. Apart from the generally available Relocation Guide we have compiled detailed and hands-on explanations on how things need to be organized in the destination city. The explanations are accessible via our mobile app and offer descriptions, screenshots, recommendations and checklists and will enable you to master all the bureaucratic steps once arrived in Germany.
As mentioned above, you can book additional remote support in case you need further information by a real person - in writing or via the phone. We will always respond within one business day. Book our Self-Relocation Packages and be safe not to forget any vital steps during your relocation!
Get yourself a job
Which work permit category to go for
Understand the immigration process
The application documents
Initial insurance coverage
Embassy appointment procedures
Registering in your destination city
Get regular healthcare
Understand the tax system
Complete the immigration
Secure temporary accommodation
Registering in your destination city
Understand the city's neighbourhoods
Cost involved and typical home styles
Long-term home: Search, inquiry & viewings
Application for an apartment
Understand the lease agreement
Conduct the handover
Organize utilities
Connect your home with internet
Re-register
Register
Get your tax ID & understand the tax system
Open a German bank account
Request a Schufa credit rating
Purchase a pre-paid SIM card
Get German healthcare & understand Social Security
Convert your foreign driving license
Bring your pet
Other insurances
Master public transport
Learn German
Find childcare for babies & toddlers
Apply for childcare voucher
Enrol your child in school
Find the best secondary school
Understand schooling options for 16+ year olds
Apply for child allowance(s)
OUR DIY-RELOCATION TOOL
Ordering a DIY-Relocation Package will give you access to our DIY-Relocation Tool. Download the app, register as advised and benefit from a transparent overview of your milestones, in-depth insight into how things are done and access to your personal relocation consultant.
Our DIY Relocation Tool is 100% GDPR compliant and your data are kept safe.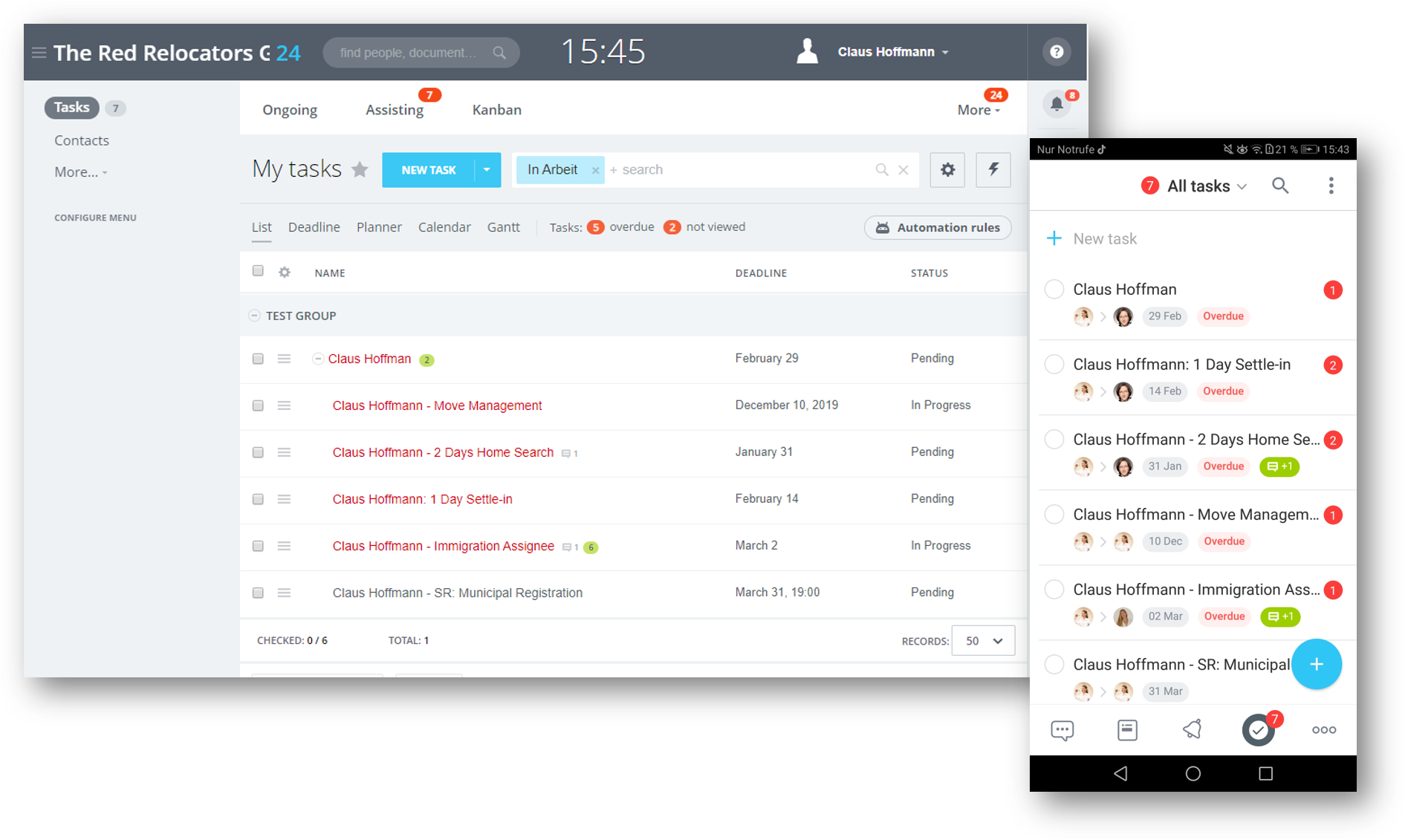 Our easy to install and handle self-relocation tool gives you a transparent overview on all the tasks booked or scheduled.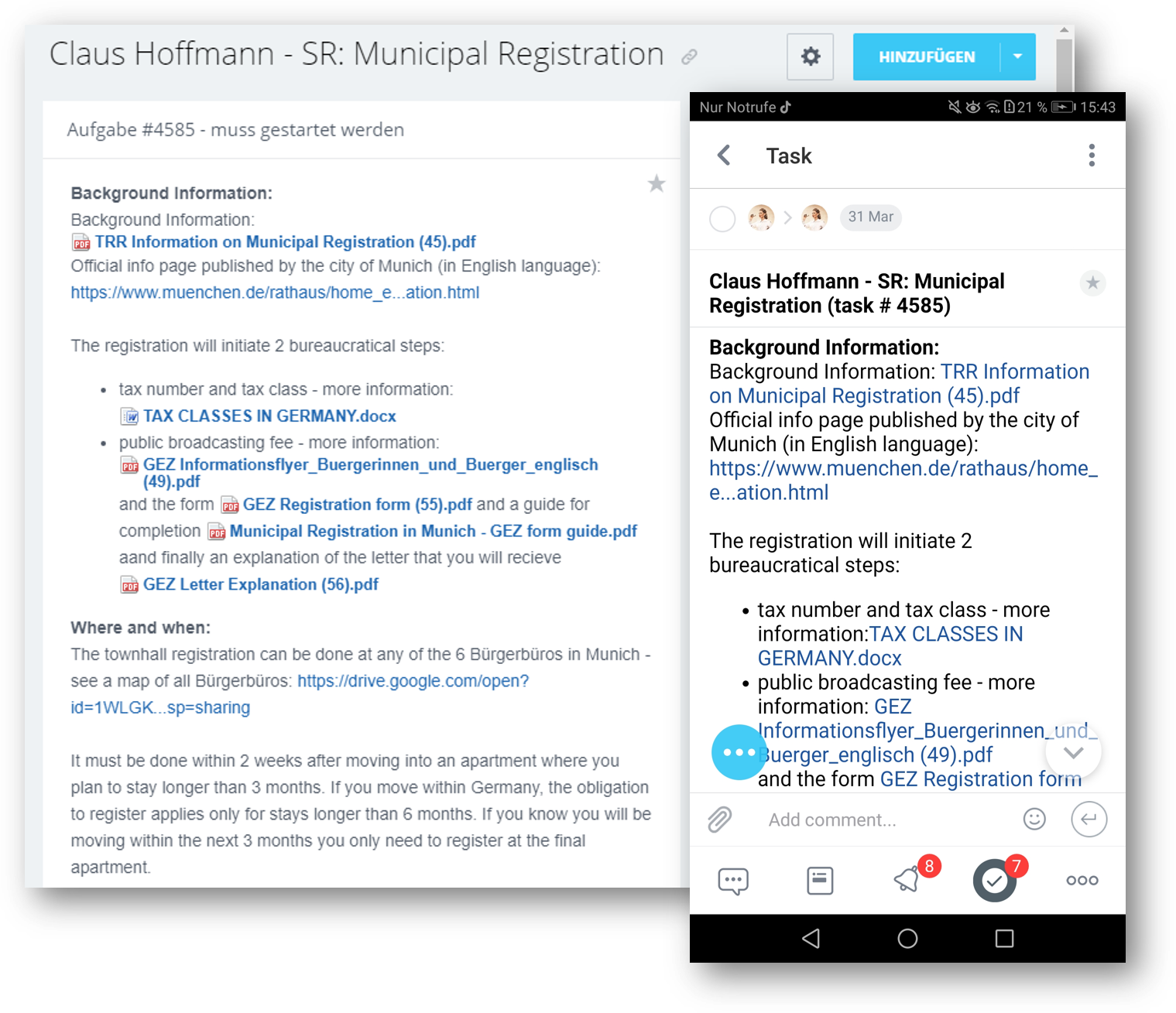 Our tasks will give you detailed information
Legal background´and related processes
Timing - when to tackle
Responsible authority in your destination city
Steps to undertake
Documents to be provided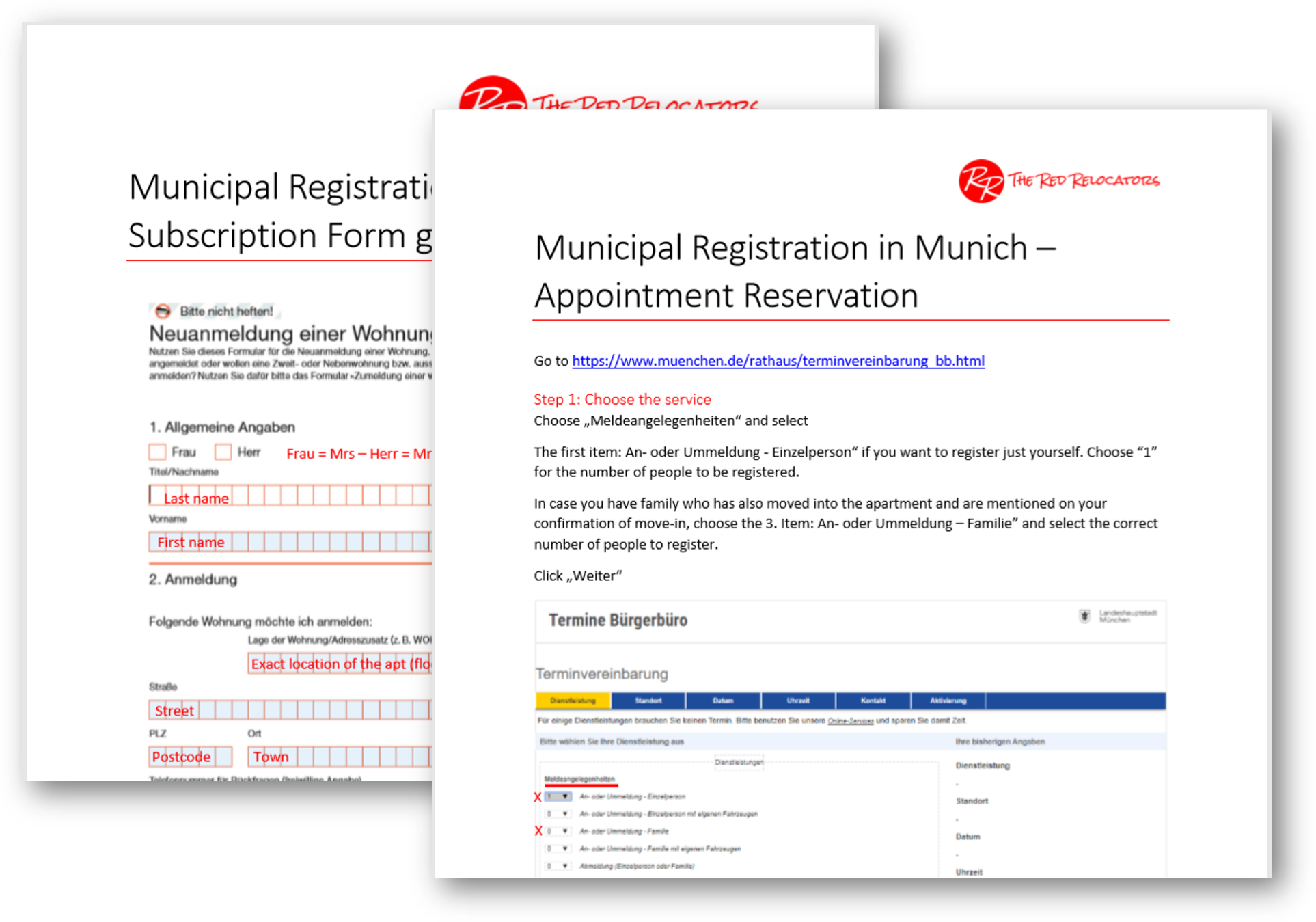 Our numerous Form Guides will help you to complete all the official forms requested by German authorities
Translation of fields
Explanation of the background of the questions
Where to send or provide to (for your destination city)
Slide 1
CONTACT
Are you interested in our services? We look forward to your contact request and will get back to you as soon as possible.
Let us have some information about you and your needs.