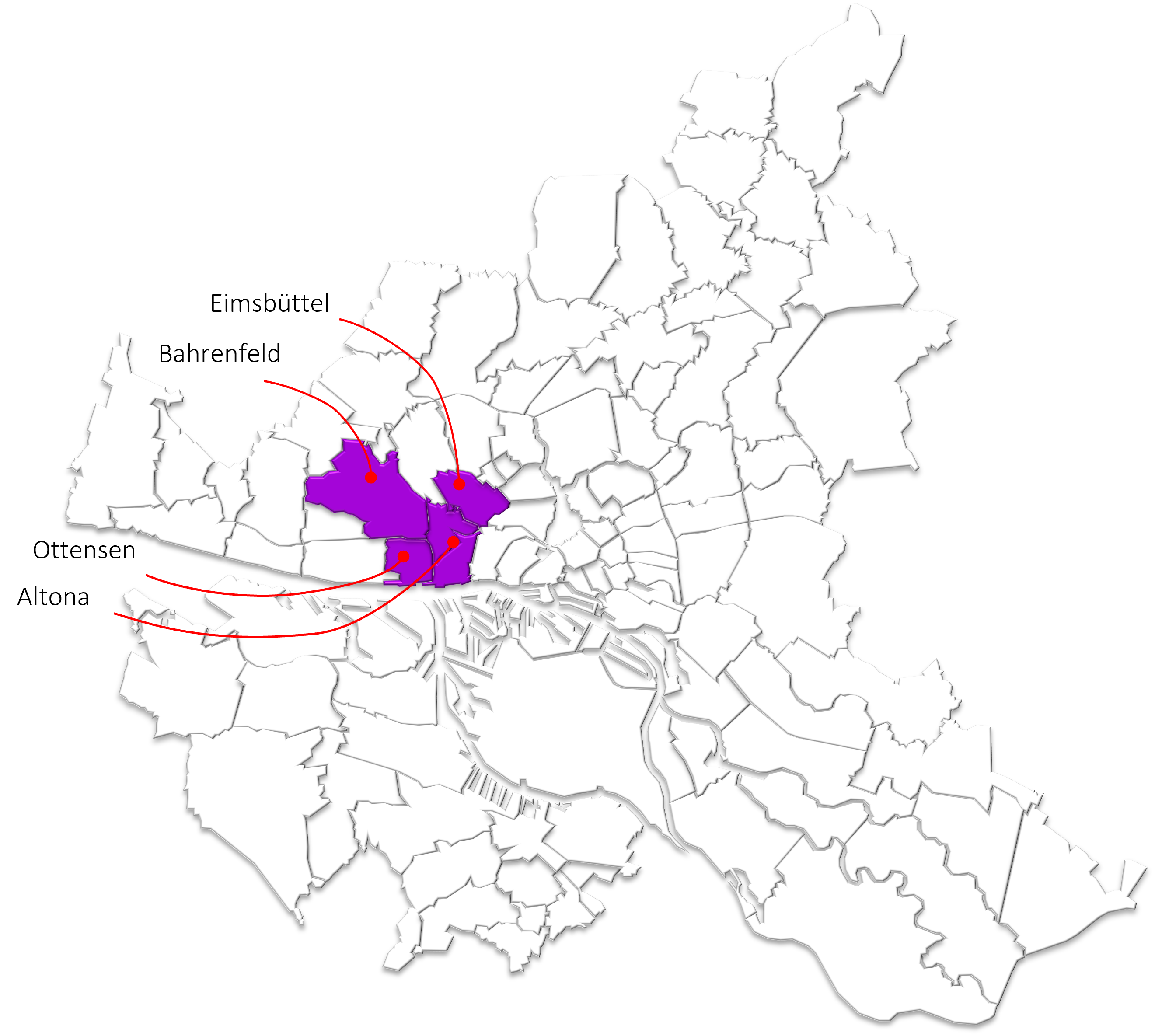 The district Hamburg Altona is devided into a very lifely old town and the more residential Altona Nord. All the life basically happens in the old town. Here there is a pedestrian zone with tiny side roads full of restaurants, bars, cafés and boutiques. You will have street performances and music. It has also the Große Bergstraße, a huge, promenade-like pedestrian zone which underwent quite some changes over the past 10 years. It was full of 1EUR king of shops back in the past and its reputation was really not good. Nowadays, it is worth strolling it upp and down from time to time.
Altona has been the neighbor city of Hamburg in the middle age and due to the fierce competition in sea trade there actually were a couple of wars fought. In 1713, during the Nordic War, every single house has been burned down by the Swedish conquerors. A Mr. Christian Detlev von Reventlow was playing a major role when reconstructing the city, but the only reference to the past before that fire is the Palmaille which has been there as a road before. The houses though, aligning this boulevard have been built afterwards in classicism style.
Its conversion into the districts Ottensen and Bahrenfeld is seemless.
Altona was an autonomous city until 1938 when it was conjoint with the city Hamburg. The architecture is dominated by Art-Nouveau and Wilhelminian style multi-storey apartment houses, narrow streets and a lack of parking space. A lot of streets therefore are one-way direction which can be very confusing when going there by car. The area is full of little restaurants and bars. A specialty is maybe the odor of the brewery which is brewing beer since 1879. Altona is a lively part of the city with a broad mixture of cultural backgrounds of its residents. The rents are affordable but due to the popularity it is not easy to get an apartment here.
The Altona train station is also a Deutsche Bahn station and often the "final stop" for trains going to or from Hamburg. The area around the station is not the nicest and the shopping and pedestrian road Große Bergstrasse is still dominated by shops offering very cheap products. As far as we know a huge reconstruction plan has been developed to overcome the negative image of the area.
Altona is the home of the famous Fischmarket taking place every Sunday morning. This market is a Tourist attraction and starts very early. It is a good place to get cheap and big bundles of fruit during the ending minutes of the market. The auction hall, a gorgeous building hosting the so-called "Frühschoppen" (meaning music events taking place in morning hours) every Sunday morning. Often, party-goers spend there last hours of a long night here before finally slippig into their beds.
Get an impression of available apartments in this district
The link refers to the biggest real estate webportal and what you see is representative. The search is limited to unfurnished apartments with a built-in kitchen. Any furniture you see will go out before you move in.
Get an idea of rental price development in this district
The link refers to statistics of the biggest real estate webportal and shows the m² prices as so requested by the landlords. They can be considered being the reality since there is no room for negotiation in this market.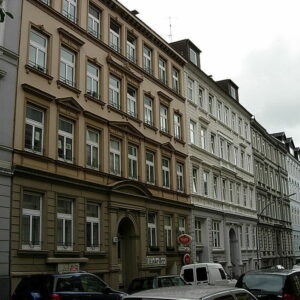 Expat Comments

Emily: "I have lived here three years! Relax: Övelgönne, Elbstrand. Cafe Ole is a great, chill place with nice wines. I also like Cafe Reise Bar for cocktails and they have a nice Sunday brunch buffet. Taverna bei Nostalgia Sotiris is my absolute favorite Greek place in the city and in Ottensen. Brasserie La Provence is very good for French food, Mehl has great, very unique pizza, Ristorante Mio Cuore is a small, almost always booked but delicious Italian joint. I'd say a lot of people socialize over dinner in this district. Locals hang out in the Alma-Wartenberg-Platz in the summer, which is surrounded by small restaurants where one can have drinks."
Expat Comments

Evelyn: "Von der Motte, Tide, Mikkels, Rain cafeatery and Forelle are my favourites for coffee, breakfast and lunch. Love Nostalgia bei Sotiris, the food is fantastic and also good with kids. A bit more expensive but great food go to Kleine Brunnenstrasse and Arturo 1919 for fine Italian cuisine. Relaxing at Strandperle and Elbstrand. Also cafe/biergarten Altonas Balkon is very nice to relax (not officially Ottensen anymore but Altona ;) Let me know if you need more info. Xxx"
"Oh and Reh bar and Aurel for drinks ;) Bio market on Spritzenplatz on Saturday. Marktzeit in the Fabrik on Saturdays and Die Patisserie for the best French bread and cakes!"