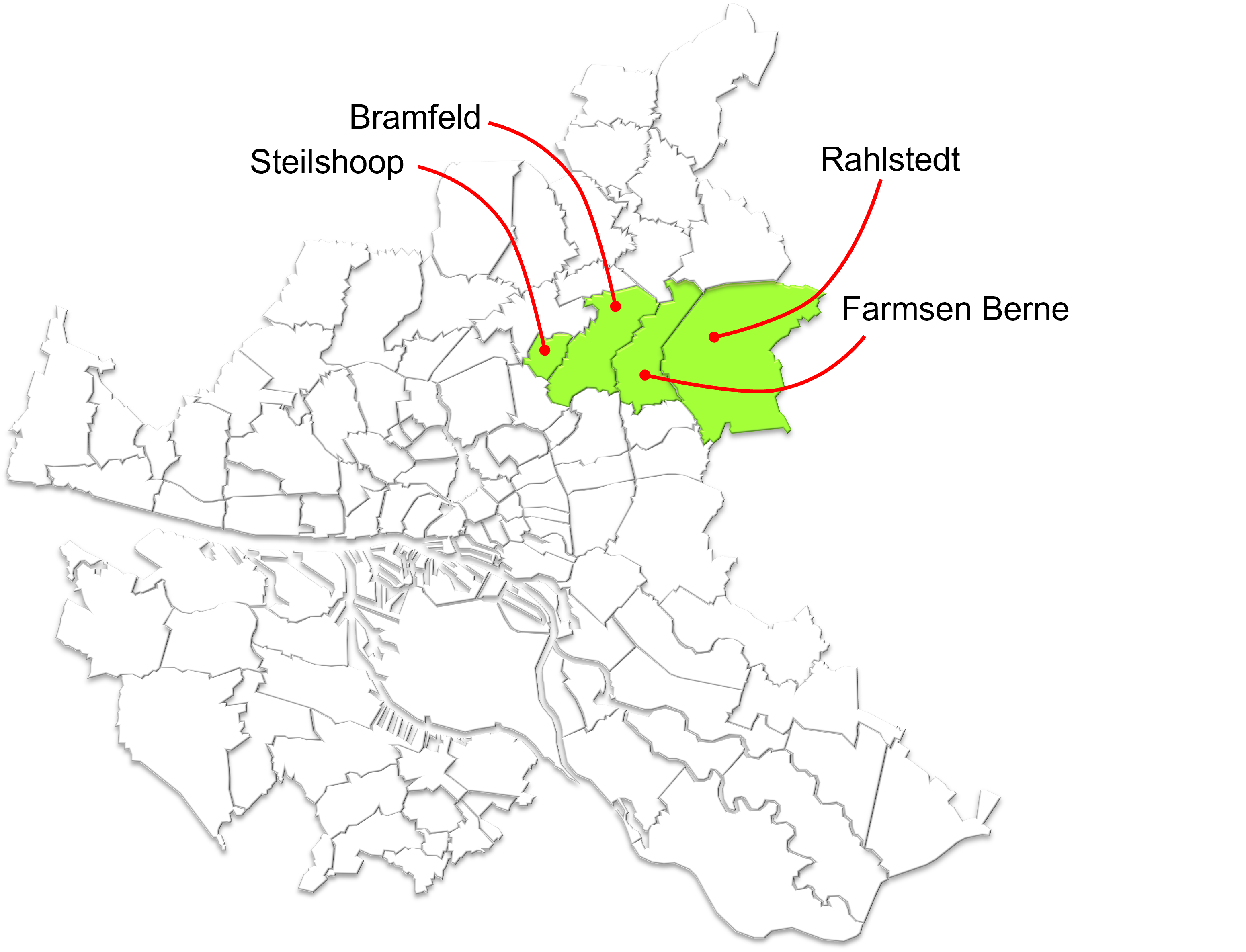 Rahlstedt is a quiet neighborhood with a lovely old center with a lot of beautiful townhouses from the early nineteenth century. Further out it becomes rather rural with a beautiful flair. It is a reasonably priced area with good schools. However, there is no fancy shopping or restaurant here.
The district is one of Hamburg's biggest and whilst the more central area has a lot of apartment blocks the further out one goes the more sominate single houses with nice gardens. The district is yet not one for the rich and wealthy. Gorgious mansions sit only 100 meters away from high-rise apartment blocks as for example Grosslohe. This as well as other settlements, however, have never been negatively in the press and they are considered fine residential, though low-priced, area. Over 60 million euros have been invested to renovate the buildings since then. With success: more and more young families explore the area for themselves. Still, the district suffers from the reputation of poor people homes until today and you have to carefully review the immediate neighborhood of an apartment on offer.
Modern shops line the two main shopping streets - the Rahlstedter Bahnhofstrasse and the Schwerin road - forming an L-shaped pedestrian area. The Rahlstedt Arcades, sitting in the middle of the "L" is a small two-level shopping mall. Rahlstedt is connected via the regional train station and a couple of bus lines connect to the public transport system.
Its border is the nature reserve park Höltigbaum, a beautiful and large landscape of woods and softly rolling meadows. In earlier times, the rural area was the home of many sheep farms. It is a wonderful place to bike or walk and enjoy the calming sounds of nature.
Get an impression of available apartments in this district
The link refers to the biggest real estate webportal and what you see is representative. The search is limited to unfurnished apartments with a built-in kitchen. Any furniture you see will go out before you move in.
Get an idea of rental price development in this district
The link refers to statistics of the biggest real estate webportal and shows the m² prices as so requested by the landlords. They can be considered being the reality since there is no room for negotiation in this market.