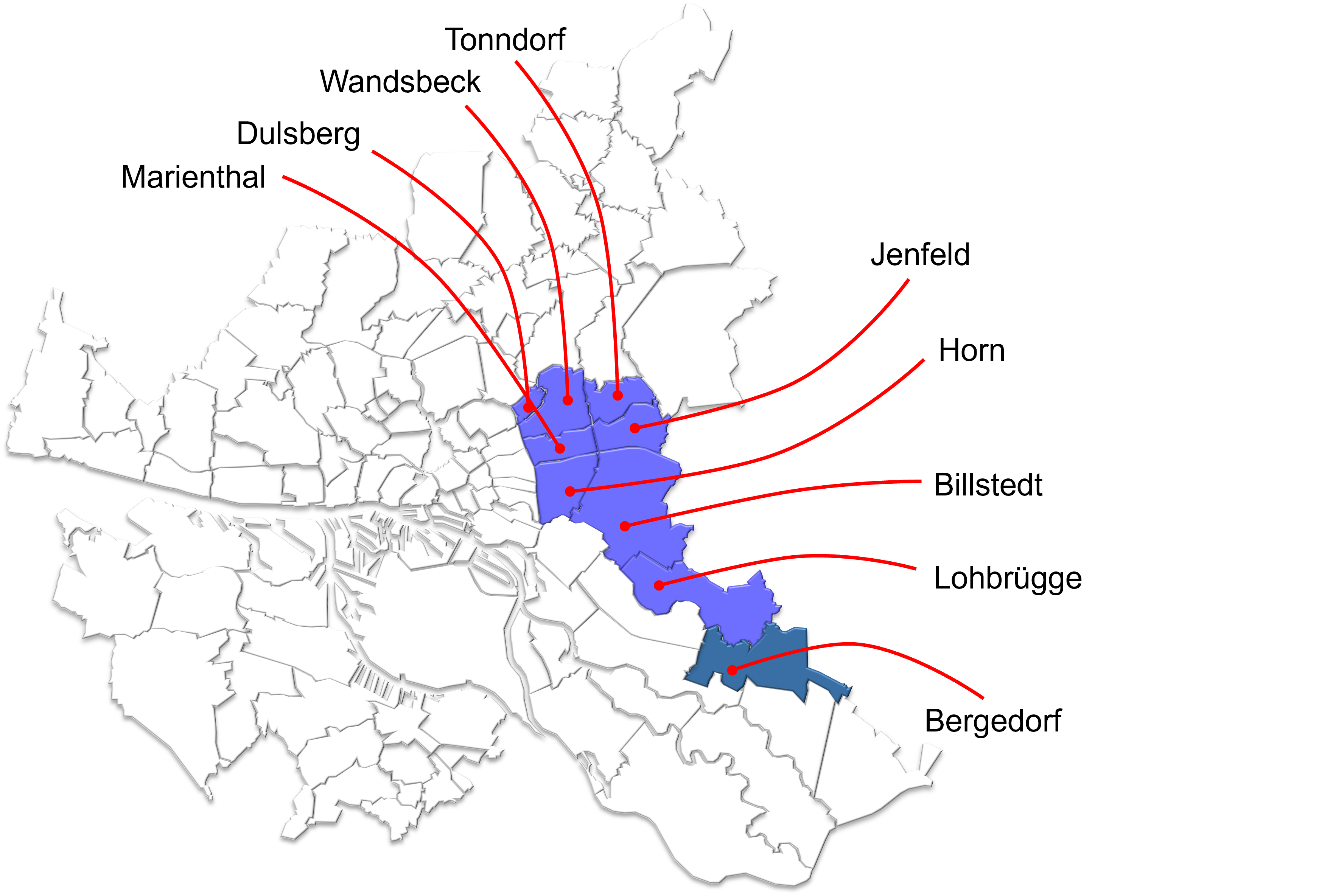 Lohbrügge is devided by the huge motorway-like Bergedorfer Straße, channeling all traffic from East of Hamburg into the city centre. The Southern, Eastern part is a nature reserve area, the Boberger Niederung.
In the middle there are quiet and green residential streets and huge parts of newbuilt townhouses and modern style apartment blocks. The "older" houses were mostly built in the 1980ies and have considerable-size gardens, all neatly maintained. Definitely a niceand family-friendly area to live in. The nearly untouched nature, especially the Boberg dune offer great possibilities for recreation and activities, including flying aircrafts.
The next area is industrial with a clinic specialized on surgery which sets a border between the nice West and the not-so-nice East. The Eastern part is dominated by apartment blocks with no mentionable specifics. They come in all sizes. One of them is considered the biggest houses in Hamburg, the so-call lindworm on Röpraredder built in 1060 and comprising 258 apartments in one huge apartment block with three to 9 floors. 5 tower blocks at Korachstraße with 11 to 17 floors overlook the whole area. This quarter is called Lohbrügge Nord. Most of the buuldings were built in 1950 to 60 when the whole area was declared residential and a huge development program was started. The result is not beautiful, although, admittedly, in the last years renovation works have been conducted. The whole area still suffers from its really bad reputation in the 1980ies when it was known for its politically extreme right activists in combination with an architectural style called desert of concrete. Social conflicts often found their way into Hamburg news. As a counter measure youth clubs were founded and in the end successfully fought back right wing radicalism.
The districts shopping area is in the very East with the Alte Holstenstraße being the meeting point as pedestrian only road. A small shopping center offers any kind of consumable goods.
Get an impression of available apartments in this district
The link refers to the biggest real estate webportal and what you see is representative. The search is limited to unfurnished apartments with a built-in kitchen. Any furniture you see will go out before you move in.
Get an idea of rental price development in this district
The link refers to statistics of the biggest real estate webportal and shows the m² prices as so requested by the landlords. They can be considered being the reality since there is no room for negotiation in this market.
Photos f.l.t.r: The water tower of Lohbrügge (c) Uwe Barghaan (CC BY 3.0), (c) Angela Vielhaber PIXELIO, "LohbrüggerWegEnsemble" (c) Malte Jörn Krafft CC BY-SA 3.0, "LohbrüggerLandstraßeEnsemble68" (c) Malte Jörn Krafft CC BY-SA 3.0, "LohbrüggerLandstraße1" (c) Malte Jörn Krafft CC BY-SA 3.0, "LohbrüggerKirchstraße9" (c) Malte Jörn Krafft CC BY-SA 3.0, "HöperfeldEnsemble" (c) Malte Jörn Krafft - CC BY-SA 3.0, "HH-Lohbrügge Lohbrügger Landstraße 23" (c) An-d CC BY-SA 3.0, "HH-Lohbrügge Krusestraße 2 Wasserwerk" (c) An-d CC BY-SA 3.0, "HH-Lohbrügge Klapperhof 7" (c) An-d CC BY-SA 3.0, "HH-Lohbrügge Klapperhof 1" (c) An-d CC BY-SA 3.0, "NSG Boberger Niederung 13-04-2014 Boberger Dünenwege 03" (c) Xaver Dolores CC BY-SA 3.0