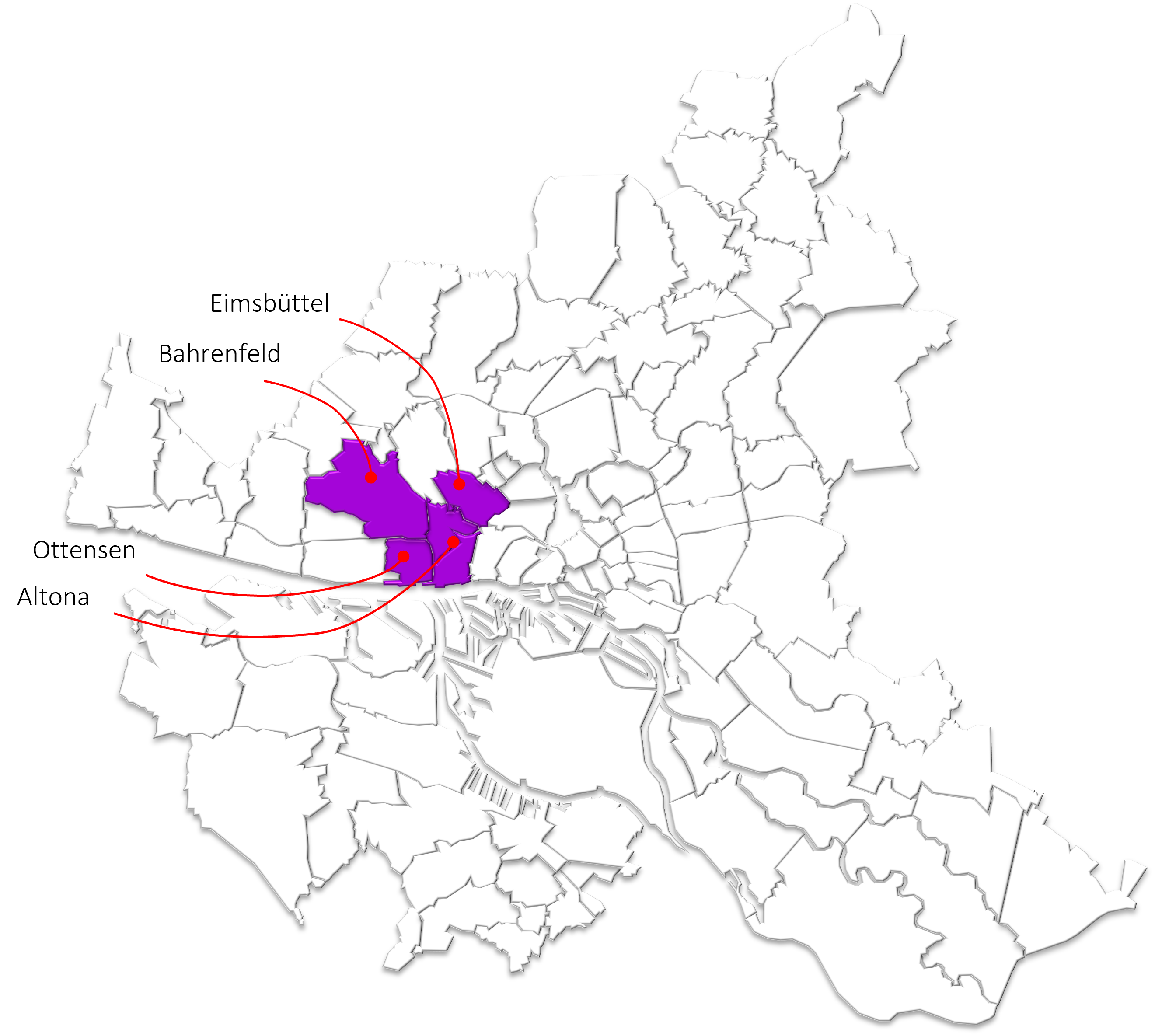 Hamburg Ottensen is wonderfully urban and lively district. There is a good mixture of residents with a lot of foreigners from Turkey and neighbor states, though, due to the pricier rents their wealth is slightly above average. Ottensen is dominated by gorgeous high-ceiling Wilhelminian-style town houses and cozy backyards. It has been an industrial area in the 19th century and many shutdown manufacturing sites have been converted into beautiful office and cultural buildings as well as luxurious lofts.
One of them is the "Zeisehallen" which homes a cinema specialized in non-mainstream movies, the famous restaurant "Eisenstein", various boutiques and a library for teens. The "Fabrik" is another former manufacturing site which was turned into a concert hall now well-known beyond Hamburg's boundaries. Restaurants and bars are non-countable and you can find any specialty. We found images of both of them below.
Ottensens streets are mostly tiny and curvy one-way roads which add a lot to the very nice atmosphere of the district. Parking space is basically not available, but as the quarter is well connected with the HVV it is not so much a problem to live without a car. There are a lot of families, although most of them leave when children become older. The district is one of the most preferred ones and thus rather pricy.
You will find 100s of small shops and mini restaurants of superbe, and of course also mediocre, quality. There is probably every kitchen of the world within a circle of 5km. Many residents have an Arabic background, a in the second or third generation. As a result, the district has a good number of Arabian supermarkets and boutiques. The shopping mall Mercado at the Altona train station is also not far.
Get an impression of available apartments in this district
The link refers to the biggest real estate webportal and what you see is representative. The search is limited to unfurnished apartments with a built-in kitchen. Any furniture you see will go out before you move in.
Get an idea of rental price development in this district
The link refers to statistics of the biggest real estate webportal and shows the m² prices as so requested by the landlords. They can be considered being the reality since there is no room for negotiation in this market.

Emily: "I have lived here three years! Relax: Övelgönne, Elbstrand. Cafe Ole is a great, chill place with nice wines. I also like Cafe Reise Bar for cocktails and they have a nice Sunday brunch buffet. Taverna bei Nostalgia Sotiris is my absolute favorite Greek place in the city and in Ottensen. Brasserie La Provence is very good for French food, Mehl has great, very unique pizza, Ristorante Mio Cuore is a small, almost always booked but delicious Italian joint. I'd say a lot of people socialize over dinner in this district. Locals hang out in the Alma-Wartenberg-Platz in the summer, which is surrounded by small restaurants where one can have drinks."

Eveline: "on der Motte, Tide, Mikkels, Rain cafeatery and Forelle are my favourites for coffee, breakfast and lunch. Love Nostalgia bei Sotiris, the food is fantastic and also good with kids. A bit more expensive but great food go to Kleine Brunnenstrasse and Arturo 1919 for fine Italian cuisine. Relaxing at Strandperle and Elbstrand. Also cafe/biergarten Altonas Balkon is very nice to relax (not officially Ottensen anymore but Altona ;) Let me know if you need more info. Xxx."
"Oh and Reh bar and Aurel for drinks ;) Bio market on Spritzenplatz on Saturday. Marktzeit in the Fabrik on Saturdays and Die Patisserie for the best French bread and cakes!"

Kristiana: "Schamotte for best pizza, Reh Bar defo, Otto's Burger for best burgers and sweet potato fries."