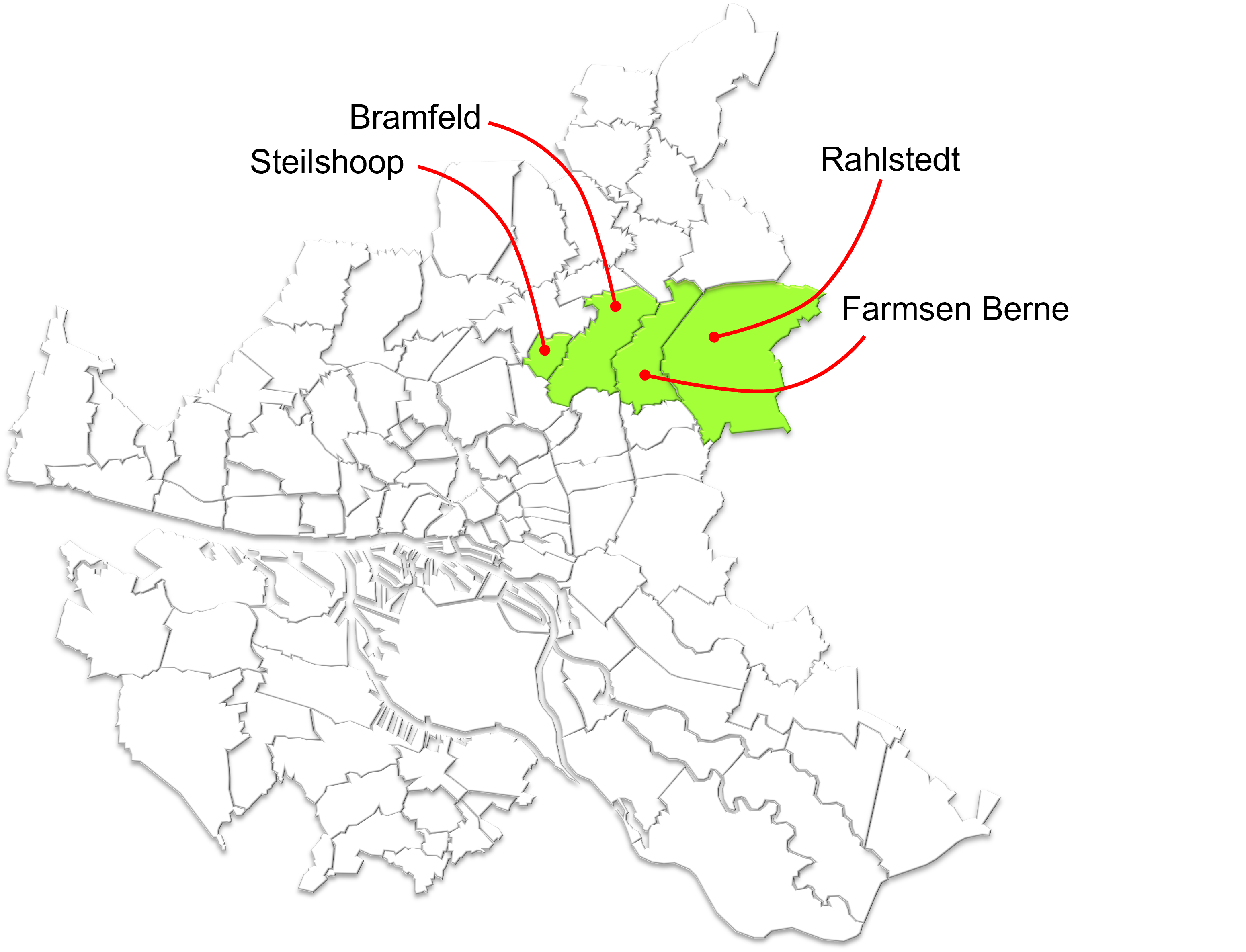 Farmsen is a decent residential area with a lot of green. The neighborhood is reasonably priced and a lot of families do live here. It has a lake serving as open air swimming pool in the summer months, an ice skating arena and a smaller shopping mall.
The former village charm has been lost over the decades, especially in the period around 1920, but also during the great housing shortage after World War II, when a huge building boom changed the appearance of the neighborhood thoroughly. What was once the Gut Berne, a government estate serving as summer residence from 1600 to the Hamburg senate, became a settlement in 1920, following the idea of the garden city Wandsbek. Today, many live in socially subsidized apartments, the rents are therefore often far below those in the west of Hamburg. The apartment blocks are well-kept and mostly very green. But you won't find villas or mansions unless used for public or business purposes.
Farmsen-Berne has two trains stations and a well connected bus center and is thus very good connected to the city center.
Hence, it is a very convenient area with good connection to the city center.
Get an impression of available apartments in this district
The link refers to the biggest real estate webportal and what you see is representative. The search is limited to unfurnished apartments with a built-in kitchen. Any furniture you see will go out before you move in.
Get an idea of rental price development in this district
The link refers to statistics of the biggest real estate webportal and shows the m² prices as so requested by the landlords. They can be considered being the reality since there is no room for negotiation in this market.
 Photos f.l.t.r: Modern settlement built in a cirlce around a big green yard at Max-Herz-Ring (c) hh oldmann CC BY 3.0, Neusurenland (c) hh oldmann CC BY 3.0, Primary school in Farmsen (c) hh oldmann CC BY 3.0, Shop next to Farmsen shopping mall (c) hh oldmann CC BY 3.0, Shopping zone close to May-Herz-Ring (c) hh oldmann CC BY 3.0, Small plant shop run by disabled people Alstergärner (c) hh oldmann CC BY 3.0, Small shops around U-Bahnstation Farmsen (c) hh oldmann CC BY 3.0,  - ALL 7 via Panoramio, "Farmsen - Bernerauslueues" (c) flamenc (Own work) CC BY SA 3.0, "Hamburg.Berne.Gutshaus Berne.wmt" (c) Wolfgang Meinhart, Hamburg (Own work) GNU Free Documentation Licence, "Gutshaus Farmsen (Hamburg-Farmsen-Berne)" (c) Ajepbah (Own work) CC BY SA 3.0, "Hamburg.Lienaustraße.schule.wmt" (c) Wolfgang Meinhart, Hamburg (Own work) GNU Free Documentation Licence, "Kupferdamm 26 (Hamburg-Farmsen-Berne)" (c) Ajepbah (Own work) CC BY SA 3.0 - ALL via Wikimedia Commons