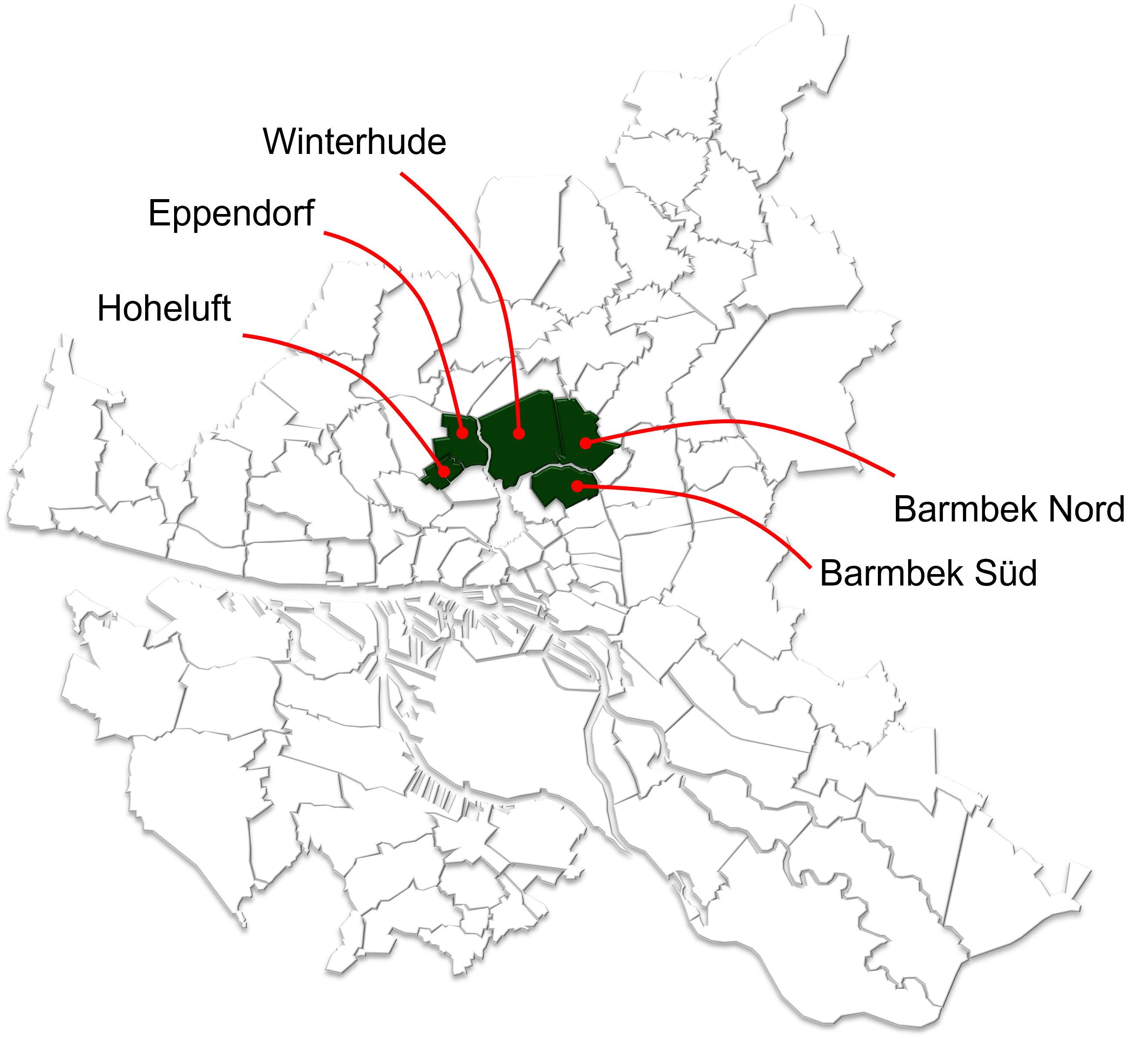 The district Hamburg Barmbek-Nord is a very densely populated district: around 9.700 people share one km² in this area. Everybody lives in apartments, but these are beautiful red-brick buildings from the 1930's which were formerly (and still) inhabited by working class people. The flats are cheaper than in other areas and a good number of them are still in need of renovation. It neighbors the slightly less attractive district Dulsberg, and the more residential area Bramfeld. And of, course, South of stadtpark border, ther is Barmbek-Sued.
It is a central and mostly beautiful area, but you should be able to accept that hanging pictures is a complicated surgical operation sometimes ending with re-plastering of the whole wall. This results in a fair m² rental price of 10,20 EUR. The district is favored by singles and couples without children, however, due to the dense population there are still a lot of kids going to 13 kindergartens, two primary schools and three secondary schools. The population is also quite mixed with regard to the nationalities: 23% have a foreign background. Residents are not so wealthy, on average they earn 10.000 EUR less than other Hamburgers. This is partly due to a slightly higher unemployment rate than the Hamburg average of 6,1%. Criminality is a bit below average.
The Osterbek channel is the main recreational area where people relax on its grassy banks or make a tour with a boat. There are plenty of restaurants, but the area is not exactly a spot for nightlife. There are two shopping areas, a smaller one is on Fuhlsbütteler Strasse and a big one is on Hamburger Strasse which also houses a Cinemaxx complex. The district's plus is definitely the beauty of the red-brick buildings combined with low rents and the easy connection to the city center.
Get an impression of available apartments in this district
The link refers to the biggest real estate webportal and what you see is representative. The search is limited to unfurnished apartments with a built-in kitchen. Any furniture you see will go out before you move in.
Get an idea of rental price development in this district
The link refers to statistics of the biggest real estate webportal and shows the m² prices as so requested by the landlords. They can be considered being the reality since there is no room for negotiation in this market.