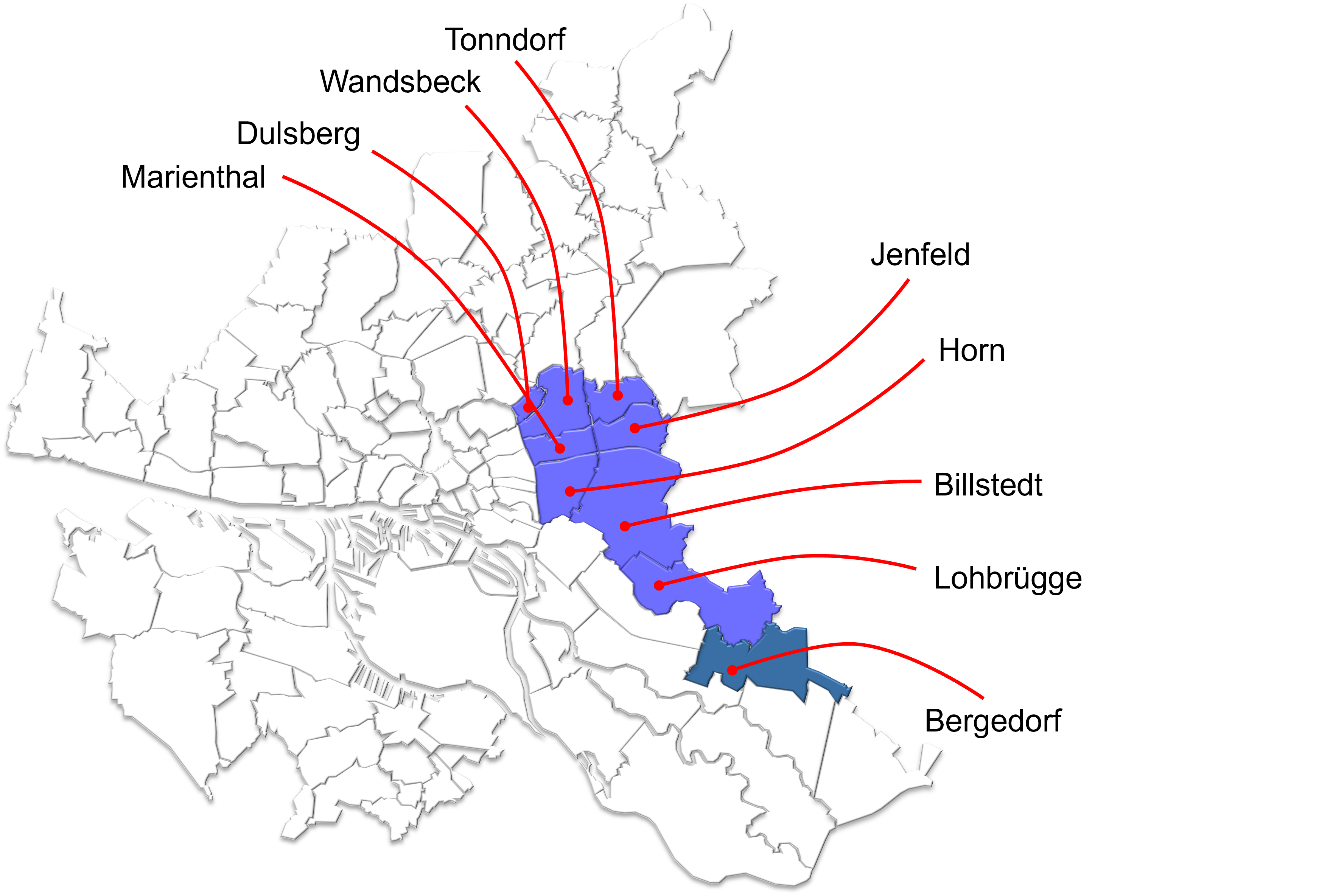 Marienthal is the villa quarter in the East. The beautiful mansions were mostly built in the early 19th century and most wanted. Very few buildings from after the 2nd World War interfere with the wealthiness of the Wilhelminian era. North of Jüthornstraße and Rodigallee houses are a little smaller and there are also the only apartment blocks which one would not actually expect in the noble and exquisite suburb. Modern town houses were built at Husarenweg emphasizing the red-brick architecture of Fritz Schumacher. The exclusive houses can only be afforded by wealthy people and the districts average is 42.000 EUR taxable income wich roughly 10.000 EUR more than average. If you manage to rent an apartment, this is actually not so expensive. With 9,38 per m² the price is medium-low. The difficulty is to get one as first there aren't many and second people seldom move.
Marienthal has many rather big parks used for recreation and beautifully kept. A small shopping area is the Kielmannseggstraße north of the woods in the eastern part of Marienthal. Small shops and boutiques, a Chinese Take-away, a book store and a few more. It is not a specifically lifely "centre". The major shopping is actually done at Wandsbek Markt and at the shopping mall Wandsbek Quarree. Two restaurants are offering Italian and Spanish food and there is a Steakhouse.
Marienthal is simply beautiful. The areas close o its borders are a little less popular because the borders are all very congestive and thus noisy streets.  What is to be considered are the neighbor distritcs which are not so popular and belong to the least wealthiest with a high percentage of social welfare recipients and above avrage unemployment rate. Schools and sports clubs do obviously show a mix of all those suburbs. Criminality is a little to significantly higher than in the other most exclusive residential areas (Uhlenhorst, Harvestehude, the Elbe suburbs and the Forest Villages).
The number of children (app. 1.600) and family households represent the average of Hamburg. 70% of the pupils older than 10 visit a  Gymnasium, which is significantly above the average of 46%. The district has 10 kindergardens, 1 primary and 2 secondary schools.
Get an impression of available apartments in this district
The link refers to the biggest real estate webportal and what you see is representative. The search is limited to unfurnished apartments with a built-in kitchen. Any furniture you see will go out before you move in.
Get an idea of rental price development in this district
The link refers to statistics of the biggest real estate webportal and shows the m² prices as so requested by the landlords. They can be considered being the reality since there is no room for negotiation in this market.